Treasury Yields Touch Lowest Since April Prompted by Stock Rout
Alexandra Scaggs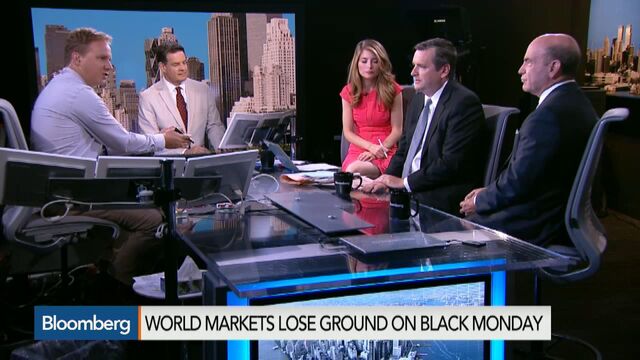 Treasuries climbed in their busiest trading day since October as tumbling stocks spurred demand for an investment haven.
Government debt surged at the start of New York trading, driving benchmark yields to the lowest since April. Traders trimmed wagers that the Federal Reserve will raise interest rates this year, while a bond-market gauge of inflation expectations touched the lowest since 2009.
Ten-year yields fell as low as 1.9 percent before doing an about-face as stocks recovered from their weakest levels. The notes' 21-basis-point round trip took about three hours. Thirty-year yields posted a similar turnaround. For the day, more than $600 billion of Treasuries traded on ICAP Plc's BrokerTec platform, the most since the flash move on Oct. 15.
"Volatility has really been the name of the game today," said Thomas di Galoma, head of fixed income, rates and credit at ED&F Man Capital Markets, a brokerage firm in New York. "It's pretty stressful."
The benchmark U.S. 10-year note yield fell three basis points, or 0.03 percentage point, to 2 percent as of 4:59 p.m. New York time, according to Bloomberg Bond Trader data. The 2 percent security due in August 2025 rose 9/32, or $2.81 per $1,000 face amount, to 99 15/16.
U.S. and European stocks extended declines that began in Asia, when Chinese equities tumbled the most since 2007. The Bloomberg Commodity Index, which tracks 22 raw materials, fell to the lowest since August 1999. The S&P 500 Index of shares fell almost 4 percent, after earlier sinking more than 5 percent.
Tail Asset
"Rates are the tail of the dog today," following moves in other markets, said John Briggs, head of strategy for the Americas at RBS Securities Inc. in Stamford, Connecticut.
Futures traders' probability of rates rising at the Fed's September meeting fell to 22 percent, from 34 percent on Aug. 21. The chance of an increase by the December meeting fell to 44 percent from 61 percent. The figures are based on the assumption that the effective fed funds rate will average 0.375 percent after the first increase.
Fed Bank of Atlanta President Dennis Lockhart said Monday that September remains a possibility, but the stronger dollar, weaker Chinese yuan and falling oil prices are "complicating factors in predicting the pace of growth."
As stocks dropped last week, investors saw the value of their U.S. government-debt holdings soar by $67 billion, the most since early July, according to Bank of America Merrill Lynch bond indexes.
Treasuries Mantra
"For global investors with large amounts of money seeking a safe haven, it's Treasuries, Treasuries and Treasuries," said James Kochan, chief fixed-income strategist at Wells Fargo Advantage Funds, which oversees $228 billion in Menomonee Falls, Wisconsin. "I can't think of anything else."
As 10-year Treasuries rallied, the extra yield on the bonds relative to the average for the other Group of Seven economies fell to 0.86 percentage point, the smallest spread since February, according to data compiled by Bloomberg.
Sliding inflation expectations may delay the Fed because the central bank has a long-term target of about 2 percent. Inflation that's too low can slow economic growth by keeping wages low and discouraging spending.
The extra yield on benchmark 10-year notes over that on inflation-linked debt shrank to as little as 1.44 percentage points, the least since May 2009.