Mideast Stocks Extend Decline Led by Saudi Arabia as Oil Sinks
Sarmad Khan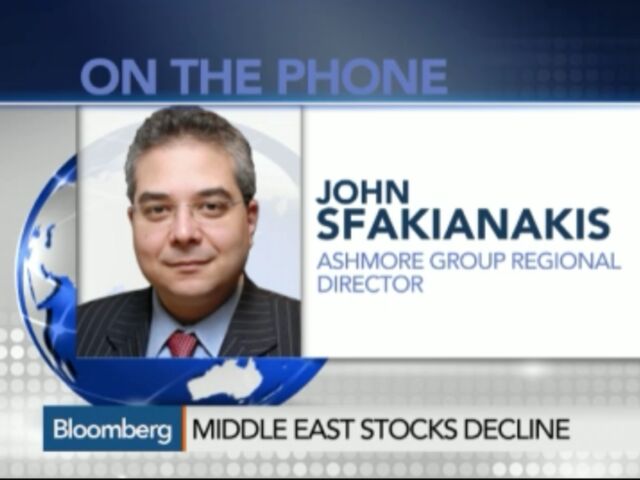 Middle Eastern stocks extended their decline amid a global rout and as Brent crude fell below $45 per barrel for the first time since 2009.
Saudi Arabia's Tadawul All Share Index, which entered a bear market on Sunday, led the drop after it fell 5.9 percent at the close in Riyadh to the lowest level since March 2013. Dubai's DFM General Index closed less than 20 points away from the threshold for a bear market and Israel's TA-25 Index dropped for a fourth day. Brent sank 4.4 percent to $43.46 per barrel at 3:25 p.m. in London. The MSCI World Index slid for a fifth day to the lowest level since October 2014.
Global equities have lost more than $5 trillion in value since China's shock currency devaluation on Aug. 11, with U.S. shares succumbing to the selloff at the end of last week. The slide in Brent to the lowest in more than six years is piling pressure on Gulf states, which rely on oil income to fund government spending. The six-nation Gulf Cooperation Council is home to about 30 percent of the world's proven crude reserves.
"Oil just can't stop sliding and local investors are very worried about where the bottom is and how long regional economies can take the battering," said Sebastien Henin, the head of asset management at The National Investor in Abu Dhabi. Henin, who oversees $90 million, said he's holding off new investment decisions until the dust settles. "With China's currency devaluation and concerns of a global economic slowdown, equities as an asset class are just too risky at the moment and no wonder regional indexes are entering bear territory."
The Bloomberg GCC 200 Index, which tracks 200 of the Gulf's top equities, fell for a 10th day, the longest losing stretch since January 2009. The gauge sank to the lowest level in two years as its 10-day volatility jumped to the highest since December.
Saudi Debt
All but 14 stocks out of the Tadawul's 171-member index fell, dragging the gauge's 14-day relative strength index to 9.7, the lowest in more than two decades.
Middle Eastern stocks had their worst day of the year on Sunday after Saudi Arabia's index of equities sank more than 20 percent from a peak in April. Fitch Ratings on Saturday cut the outlook on the nation's AA debt rating to negative from stable, indicating its next decision may be to lower its assessment.
The kingdom turned to the bond market for the first time since 2007 this year after the slide oil prices put pressure on the nation's finances. Moody's Investors Service estimates the nation's debt-to-gross domestic product may climb to 6.4 percent this year if the government raises 115 billion riyals ($31 billion) by the end of 2015. The ratio was 1.6 percent last year, according to International Monetary Fund data.
'Severe Jolt'
In Dubai, stocks declined 1.4 percent to 3,401.62 after plunging as much as 6.1 percent.
The gauge could fall below 3,000, "and if that happens, it will be a severe jolt," Nabil Rantisi, the managing director of brokerage at Mena Corp. Financial Services, which has a client deposit base of 6.8 billion dirhams ($1.85 billion), said by phone from Dubai. "It's a scary scenario."
Dubai's government debt due 2021 retreated for a sixth day as the yield climbed to 3.39 percent, the highest since January on a closing basis, according to prices compiled by Bloomberg.
Egypt's EGX30 Index fell 1.9 percent, its ninth day of losses, the longest streak since November 2011. The gauge decreased 18 percent in the period to the lowest level since December 2013.
Israeli Rates
The Bank of Israel left its interest rate unchanged at close to zero as global turmoil and weak growth figures helped to weaken the shekel. Two out of eighteen economists surveyed by Bloomberg had estimated the Bank of Israel would cut the interest rate on Monday. The rest foresaw no change.
The shekel briefly weakened to 3.94 per dollar after the rate announcement before strengthening 0.8 percent to 3.841 per dollar. Israeli government bonds due August 2025 rose for a fourth day as the yield lost four basis points to 2.08 percent, the lowest in almost three months.
Equities in Israel, where exports account for about a third of gross domestic product, sank 3.5 percent to the weakest level since March. Teva Pharmaceutical Industries Ltd. led the decrease with a 5.6 percent loss.
"There are concerns that a China slowdown will affect global growth," said Steven Shein, a trader at Psagot Investment House Ltd. in Tel Aviv.