business
Guatemala President Rejects Calls to Quit Over Corruption
Michael McDonald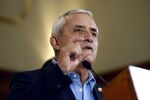 Guatemalan President Otto Perez Molina rejected accusations that he was involved in a corruption scandal and rebuffed critics who said he should resign five months before his term expires.
In a nationally-televised address on Sunday evening, Perez Molina said his conscience "is clear" and that he would remain in office to help protect the Central American country's institutions. While the 64-year-old president said he would confront any accusations against him, he also apologized for the series of corruption scandals that have battered his administration this year.
"I will not resign," Perez Molina said from his office, standing in front of the country's blue and white flag. "With the same strength and character with which I reject my involvement, I can't fail to recognize that this has taken place in my government, and by officials I appointed."
Perez Molina has faced mounting pressure to step down as his vice president and a series of cabinet members and aides were linked to different corruption cases. On Friday, the attorney general said the president himself was involved in a customs tax scheme that prompted police to arrest former Vice President Roxana Baldetti, who arrived at court on Monday for an initial hearing. The economy and health ministers resigned over the weekend following the report, saying they wanted to distance themselves from the government.
Election Plans
In an interview with Canal Antigua on Sunday, former first lady and opposition presidential candidate Sandra Torres called Perez Molina's address "confrontational" and said it "puts the country's economy in jeopardy." "The way out of this crisis is elections," she said.
The first round of presidential elections are Sept. 6, with a runoff in October if no one gets a majority. Should Perez Molina step down before his term ends on Jan. 14, Vice President Alejandro Maldonado, a former Constitutional Court justice who replaced Baldetti, takes office.
The corruption allegations have cast a shadow over a $59 billion economy that serves as a key gateway between Latin America and the U.S. -- for goods, immigrants and illegal drugs. Bordered by Mexico, Belize, Honduras and El Salvador, Guatemala's principal exports include coffee, sugar and gold.
Daily Protests
Perez Molina's decision to remain in office is unlikely to alleviate pressure on him. Protesters over the weekend called for daily rallies in front of the presidential palace starting Tuesday. As many as 60,000 people joined protests against the government in May.
The attorney general alleged that Perez Molina and the former vice president accepted bribes in exchange for allowing companies to skirt import taxes. Based on that report, prosecutors have asked the courts to investigate Perez Molina in a bid to strip him of immunity. If the courts accept the attorney general's claims, they will send the report on to Congress, which must appoint a five-person committee to consider the request.
"The best thing for the country is for the president to present his resignation," former Economy Minister Luis Velasquez, a member of the opposition, said in a phone interview before the president's speech. "The system has collapsed and it's time to make profound changes."
Perez Molina, a former general who helped broker a peace agreement ending Guatemala's civil war in 1996, said following his election victory five years ago that the people had given him a mandate to fight corruption.
In his Sunday speech, he singled out the country's private sector for blame in the crisis, without providing details.
"So far we've seen those who received money" in the various corruption scandals, "but not those who paid" bribes, he said. "Without a doubt, it has its roots in the business sector and I hope that soon its magnitude will be apparent."
(Updates to add comments from presidential candidate Sandra Torres in fifth paragraph.)
Before it's here, it's on the Bloomberg Terminal.
LEARN MORE