Platinum Drops the Most in Two Years on China Growth Concerns
Joe Deaux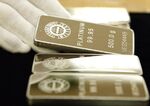 Platinum futures capped the biggest decline in more than two years as concerns over China's economy roiled markets and damped the outlook for commodities demand.
A wave of selling gripped global equities after Chinese shares plunged, while a measure of returns from raw materials sank to the lowest since 1999. A gauge of the nation's manufacturing fell to the lowest since 2009, data showed last week.
Platinum has fallen 18 percent this year as an economic slowdown deepened in China, the world's top consumer of metals, grains and energy. The white metal's use in pollution-control devices for cars accounts for about 40 percent of demand, according to Bloomberg Intelligence data.
"The industrial face of platinum is showing today," Tai Wong, the director of commodity products trading at BMO Capital Markets in New York, said in a telephone interview. "There seems to be a bit of panic that the world's second-largest economy is slowing dramatically."
Platinum futures for October delivery dropped 3.5 percent to settle at $991.50 an ounce at 1:09 p.m. on the New York Mercantile Exchange, the biggest drop since June 2013. Trading was double the 100-day average for this time, data compiled by Bloomberg show.
Gold prices swung between gains and losses. Traders weighed demand for haven assets against the broader selling across commodities. Futures for December delivery fell 0.5 percent to close at $1,153.60 an ounce on the Comex in New York, after rising as much as 0.9 percent.
Also on the Comex, silver fell as much as 4.9 percent. On the Nymex, palladium tumbled as much as 6.8 percent, the biggest intraday loss since April 2013.