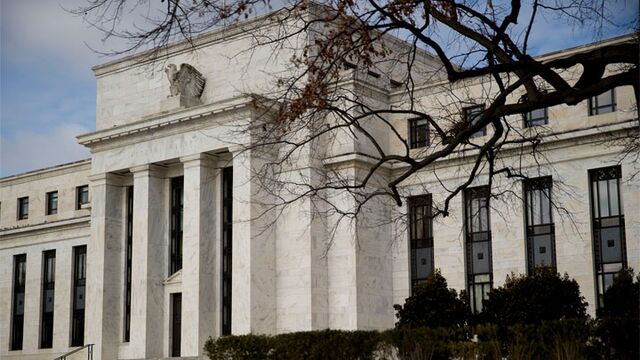 Markets are selling off around the world, prompting speculation on whether the Federal Reserve policy makers will now hold off on their first interest-rate increase since 2006.
More than $5 trillion has been wiped from the value of global equities since China devalued its currency on Aug. 11. The Dow Jones Industrial Average entered a correction last week, and Standard & Poor's 500 Index is poised to follow.
While Fed officials won't make a decision from just one month's figures, how these recent events play out in August economic data will be critical ahead of their Sept. 16-17 meeting. Here's what to watch:
Employment
Due: Sept. 4 at 8:30 a.m. New York time
With full employment being one of the Fed's dual mandates (inflation is the other), officials will be looking for signs that the steady labor-market improvement continues.
Possible snag: August jobs reports have a habit of coming in low on the first print, only to be revised upward in subsequent months, economists have said. After revisions, payrolls were boosted by 78,600 on average for the month of August from 2010 to 2014, according to Bloomberg calculations.
They also tend to disappoint consensus expectations, according to Joseph LaVorgna, chief U.S. economist at Deutsche Bank Securities LLC in New York. Since 1988, August payrolls have under-performed 21 out of 27 times, he wrote in a note to clients.
"We are concerned that if August payrolls disappoint, market expectations for September liftoff could fall even further," he wrote in the note. Fed funds futures currently imply about a one-in-four chance the central bank will lift interest rates at their September meeting. That's down from almost even odds on Aug. 18, the day before Fed minutes of their July gathering were released.
Consumer sentiment
Due: Aug. 28 at 10 a.m. and Sept. 11 at 10 a.m.
Consumer confidence levels will be key in assessing whether households have been rattled by the market volatility and economic weakness abroad.
University of Michigan's consumer sentiment report is of particular help because this Friday's release will include data on interviews up to the day before, according to Richard Curtin, the survey's director. 
The Michigan sentiment gauge reached an 11-year peak of  98.1 in January, with households bolstered by falling gas prices. Since then it's averaged 93.9. The next two reports — the final print for August and September's preliminary report — will offer clues into how consumers currently feel about the economy as well as their expectations six months from now, in addition to their attitudes on interest rates and buying conditions.
Retail sales
Due: Sept. 15 at 8:30 a.m.
Household spending accounts for 70 percent of the economy, and if consumers aren't feeling good about things, they're not going to buy.
Sales at U.S. retailers have posted only some progress this year, climbing 0.3 percent a month on average through July. That compares with a 0.4 percent average since 2010.
Industry car sales, due Sept. 1, will provide an early indication of how retail sales are shaping up for the month. Enabled by cheap borrowing costs, consumers have been snapping up vehicles for the past couple years. That could change, however, if households are worried about the economic outlook and their ability to afford car payments should things go south.
Consumer price index
Due: Sept. 16 at 8:30 a.m.
The Fed hasn't met its inflation 2 percent target in more than three years, and with oil prices tanking, this report probably won't offer good news on that front, either.
"What has kept the Fed from liftoff so far" is the inflation picture, said Ward McCarthy, chief financial economist at Jefferies LLC in New York. "With energy prices and commodity prices in a downward spiral, they have to see what it bottoms out at before they can make an intelligent policy decision."
Moreover, Fed officials are probably already satisfied with the employment data, so developments that affect their inflation outlook are important to watch,  said Carl Riccadonna, chief U.S. economist at Bloomberg Intelligence.
Those include the U.S. dollar, which surged following the devaluation of China's currency. Import prices, which are scheduled to be published Sept. 10, also will offer insight into how lower inflation abroad is seeping into domestic prices.
International data
Events in foreign markets will take on additional importance in the weeks to come, especially as conditions deteriorate in China.

"You've got to look at everything — not only the U.S., but you've got to scrutinize the data coming out of overseas," said Walter Todd, chief investment officer at Greenwood Capital Associates LLC in Greenwood, South Carolina. "Everybody's kind of searching for some grain to try to figure out what's going to happen." 
China's stocks on Monday plunged the most since 2007 amid investor concern that a slowdown in the world's second-largest economy is deepening. China's first major economic indicator for August signaled a further deterioration as a private manufacturing index fell to the lowest level in six years.
Key to watch will be industrial production data for China, slated for Sept. 12. Aggregate finance data, which will show the strength of lending in the economy, is due sometime between Sept. 9 and Sept. 15.
"The Fed is hyper-sensitive to the aesthetics of the backdrop, and no one should think otherwise," said Tom Porcelli, chief U.S. economist at RBC Capital Markets LLC in New York.