It's Back to 2008 for Europe Stocks as DAX Enters Bear Market
by
German stocks go from best to worst as selloff spreads

17 of 18 western-European markets have fallen 10% or more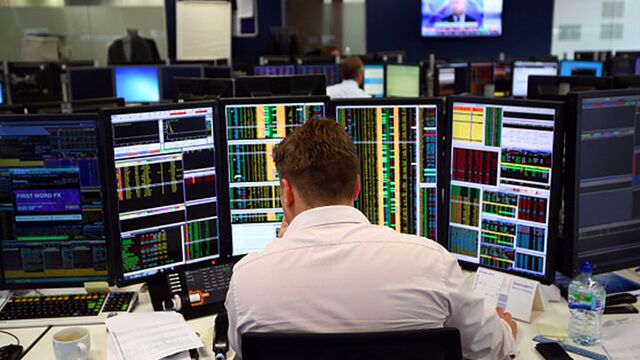 European stocks just had their worst day since 2008, with Germany's benchmark gauge entering a bear market.

All but three shares in the Stoxx Europe 600 Index fell as the gauge deepened its plunge after its worst week in four years. It slid 5.3 percent, earlier losing as much as 8.1 percent, with miners leading the plunge in industry groups as commodities headed for their lowest levels since 1999. Germany's DAX Index sank 4.7 percent, down 22 percent from its peak.

The rout that began with the devaluation of China's currency has sent the Stoxx 600 into a correction on Friday. It closed today 17 percent below the record in April. Seventeen out of 18 western-European markets have fallen 10 percent or more from their high, and the volume of Stoxx 600 shares changing hands was more than double the 30-day average on Monday.
"Today everyone seems to be selling off, and there's panic, there's no rational choice anymore, no rational reaction," according to Michael Woischneck of Lampe Asset Management GmbH, who helps oversee 6.2 billion euros ($7.1 billion). "There wont be a rebound today. The Americans will add to the European selling pressure in the afternoon, and that may drive us even lower."
The DAX, one of the biggest gainers at the start of the year, will be among the most hit due its exposure to China, Woischneck said. Portugal's PSI 20 Index has also entered a bear market, down 21 percent from its high.
FTSE 100 Slump
All of the region's national stock measures fell more than 2.7 percent. The U.K.'s FTSE 100 Index closed at its lowest level since 2012 and dropped below 6,000. Glencore Plc and BHP Billiton Ltd. tumbled more than 9 percent.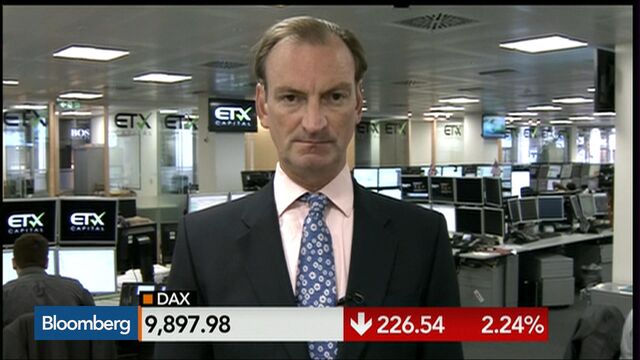 Abengoa SA was among the only Stoxx 600 companies rising, up 3.3 percent. A person familiar with the matter said one of its shareholders paid back a loan, freeing all the shares used as collateral.
More than $5 trillion have already been wiped out from the value of global stocks since China unexpectedly devalued the yuan, raising concern over a global economic slowdown. The panic intensified at the end of last week, when U.S. equities, which had remained relatively stable, tumbled as investors dumped the biggest winners of 2015.
The rout sent the Stoxx 600's valuation to 14.6 times estimated earnings, compared with 17.4 times in April, after the European Central Bank began quantitative easing to support the economy.
Technical Levels
The Stoxx 600 went as low as 331.98 on Monday, almost 48 points below its 200-day moving average for the biggest gap since 2011. It has reached a level in price charts indicating that it's dropped too much and may rebound. Its relative strength index was at 20.1, the lowest since October.

"Genuine relief will only come when there is evidence that the growth of world output and trade is reviving," according to a Kepler Cheuvreux report e-mailed today. "We want to remain exposed to Europe's domestic and
regional growth plays."
Kepler Cheuvreux downgraded technology companies to underweight and banks to neutral, while upgrading utilities to neutral and real estate firms to overweight.


Before it's here, it's on the Bloomberg Terminal.
LEARN MORE