Growth Dreams Fizzle as China Hits Europe Stocks' 2015 Gain
by and
Stoxx 600 wiped out 2015 gains, Germany's DAX in bear market

JPMorgan strategists recommend buying if stocks fall more
Concern settled in after bets that growth in Europe would push its stocks to stellar gains unraveled in just a few days.
Investors who poured $90 billion in European equity funds this year are back to where they started. Hammered by the worst four-day slide since 2008, the region's stocks gave up their annual gains on Monday, before a 2.6 percent rebound on Tuesday. As recently as April, optimism that central-bank easing would buoy markets had pushed them up 21 percent.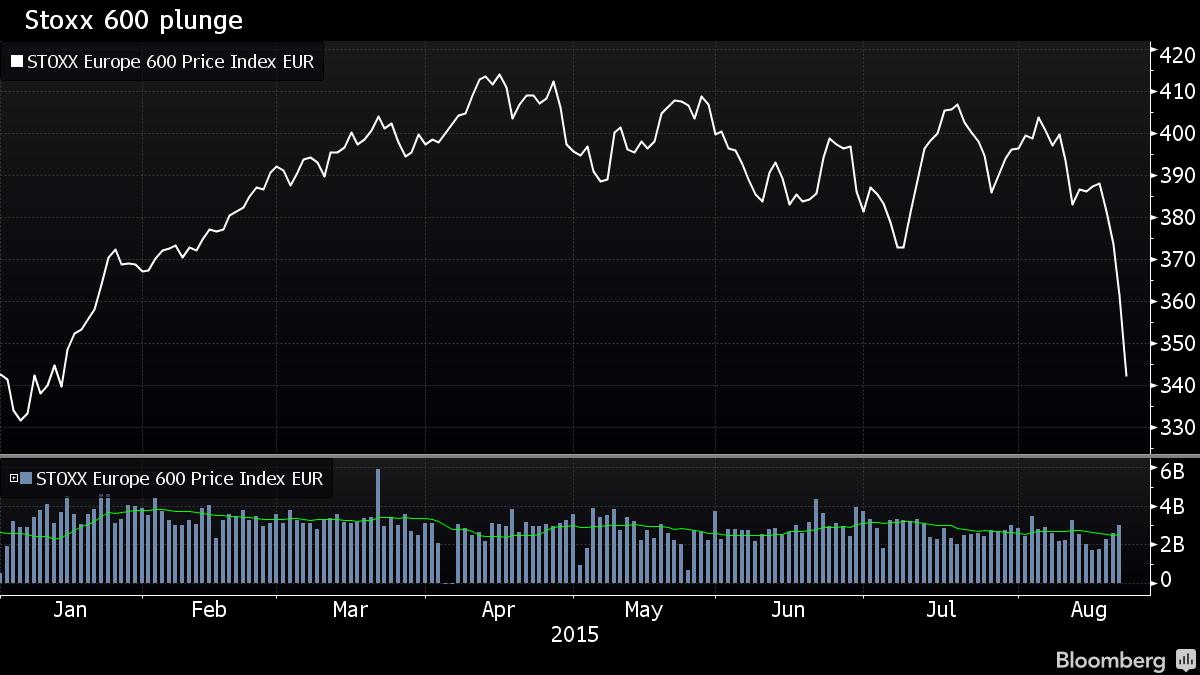 While Europe's economic forecasts remain stable and earnings projections continue to outpace the U.S., the region's equities are now taking their cues from a global selloff triggered by China's devaluation of its currency two weeks ago. Germany's DAX Index, whose export shares are hurting from the move, swung into a bear market after posting one of the best first-quarter advances in western Europe. The Stoxx Europe 600 Index deepened a correction.
"People look scared, they are quite astonished by the market's reaction," John Plassard, senior equity sales trader at Mirabaud Securities in Geneva, said on Monday. "Investors just don't understand what's happening. I tell clients they don't have to panic, but I'm not sure if today is the day to enter the market, because there are still some questions."
It has taken time for the rout to truly set in. Even until a few days ago, investors backed European equities while being pessimistic on other markets. Funds focused on the region attracted $2.8 billion in the week ended Aug. 19, while investors took out $6 billion or more each from the U.S. and emerging markets, according to a Bank of America Corp. note citing EPFR Global data.
Equity Plunge
On Monday, the Stoxx 600 tumbled 5.3 percent as all but three shares on the gauge slid and a measure of euro-area swings surged the most since 2008. Commodity producers Glencore Plc and Anglo American Plc sank more than 9 percent, while luxury-goods shares including LVMH Moet Hennessy Louis Vuitton SE and Cie. Financiere Richemont SA fell for a fifth day. Seventeen of 18 western-European markets have lost 10 percent or more from their highs.
After the European Central Bank began quantitative easing earlier this year, the region's stocks rallied to a record on bets the economy would leave years of stagnation behind. Euro-area growth is forecast to be the fastest since 2011, and analysts estimate Stoxx 600 companies will increase earnings by 6.2 percent this year, compared with 0.9 percent for Standard & Poor's 500 Index members.
Those numbers are enough for some traders to stick to their bets.
"As frustrating as this volatility can be, I don't believe in getting caught up in knee-jerk reactions," said Patrick Spencer, equities vice chairman at Robert W. Baird & Co. in London. "Rather, calmly process news as it breaks. Risk-averse investors believe in the companies they invest in. Time is key."
Current Panic
JPMorgan Chase & Co. strategists led by Mislav Matejka wrote in a note yesterday that indicators such as manufacturing data and earnings don't support the current panic in European markets. The selloff has been overdone and investors should treat further declines as buying opportunities, they said.
"We remain constructive on euro zone," they wrote. "Demand for credit is clearly picking up, among other factors. Our key concern is with the state of the U.S. cycle, but we do not think that this fear will crystallize in the near term."
Bulls may be underestimating the effect of a slowdown in the second-biggest economy on European companies, according to Tristan Abet at Louis Capital Markets. China is not only among the top trade partners for Germany, the U.K. and Switzerland, it's the world's largest consumer of commodities.
"Don't be contrarian because there's good reason to be worried about the profitability," said Abet, a strategist at Louis Capital Markets in Paris. "The cyclical upswing in Europe is intact, but you can't play it with European indices because they have been driven by global companies that are reversing for non-domestic reasons."
Before it's here, it's on the Bloomberg Terminal.
LEARN MORE