Do Republicans Have a Shot at Winning Harry Reid's Nevada Senate Seat?
The race is rated a "tossup."
By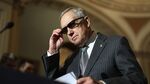 After blowing an opportunity to unseat Harry Reid in 2010, Republicans covet the retiring Senate minority leader's seat in 2016 as a nice consolation prize.
It didn't take long after Reid's retirement announcement in March for both parties to coalesce behind presumptive nominees. Democrats rallied behind Catherine Cortez Masto, a former state attorney general; Reid's early and enthusiastic backing ensures that she'll face an unobstructed path to the party nomination.
On the Republican side, party officials helped convince Representative Joe Heck to enter the race after he initially demurred. The strongest Republican candidate would have been Governor Brian Sandoval, who eschewed a Senate bid after winning a second four-year term in 2014 with 71 percent of the vote.
Cortez Masto checks off some key demographic boxes in a state that's 28 percent Hispanic, the fifth-highest percentage among the 50 states in a 2014 Census Bureau estimate. The Senate has never had a Hispanic woman in its membership. 
Unlike Democrat Shelley Berkley, a former Representative who lost a 2012 Senate race to Republican Senator Dean Heller, Cortez Masto doesn't have a congressional voting record to exploit. She's won two statewide elections as the state's top legal official, winning easily in 2006 and 2010. 
Heck's strength as a statewide candidate stems in part from his ability to win three elections in a politically competitive district, encompassing part of Las Vegas and its suburbs, that voted for President Barack Obama in the 2012 election. Heck plays up his background as an osteopathic physician and Army reservist, two professions with much higher public approval ratings than Congress. He leads the Armed Services Military Personnel Subcommittee. 
His voting record is in the Republican mainstream. He introduced his own legislation to repeal the 2010 health-care law, which he's called "the largest federal intrusion into the American health care system in history.''
Heck departs from the party line on occasion. In May, he was one of seven Republicans who voted against an energy and water development appropriations bill, H.R. 2028, after the House rejected a Heck amendment that would have increased funding for nuclear energy while zeroing out money for a nuclear waste-disposal repository at Nevada's Yucca Mountain.
Other Heck legislation is tailored to Nevada industries and constituencies. In June 2015, he introduced a bill, H.R. 2854, that would repeal the occupational tax on gambling with respect to wagers authorized under state laws. The same month, Heck introduced a bill, H.R. 2927, that's designed to increase access to medical school for students at schools designated as Hispanic-serving institutions. Heck sits on the Education and the Workforce Committee.
Nevada has voted a bit more Democratic than the nation at-large in the most recent presidential elections—Obama won it by seven percentage points in 2012, when he won the national popular vote by four points. 
The state could be Republicans' best opportunity to wrest away a Democratic-held seat. The Republican Party holds 24 of the 34 Senate seats at stake, including seven in states that President Barack Obama won in 2012. 
The Nevada Senate race is rated as a "tossup'' by the Cook Political Report, the Rothenberg & Gonzales Political Report, and the Center for Politics's Crystal Ball at the University of Virginia.