Belk Agrees to Be Bought by Sycamore for About $2.7 Billion
Lindsey Rupp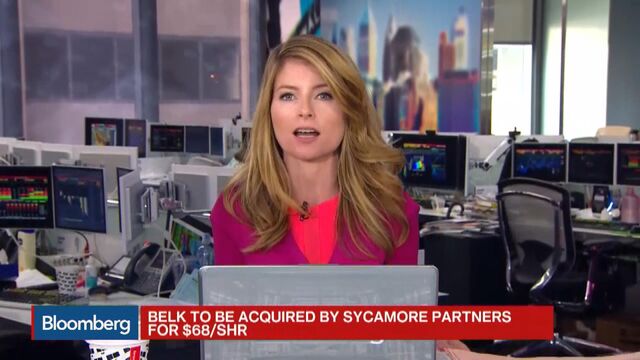 Belk Inc., the 127-year-old department-store chain concentrated in the southern U.S., agreed to be acquired by Sycamore Partners for about $2.7 billion in cash.
Belk investors will receive $68 per share, with the transaction valuing the retailer at about $3 billion on an enterprise basis, the companies said in a statement on Monday. Under the terms of the deal, Tim Belk will stay chief executive officer of the department-store chain and it will keep its headquarters in Charlotte, North Carolina.
Sycamore, a private-equity firm in New York, is known for investing in retail companies and trying to reinvigorate them. The firm, started in 2011 by two executives from Golden Gate Capital, purchased Hot Topic Inc. for about $533.5 million in 2013 and was in talks to buy Billabong International Ltd. before discussions broke off. Sycamore, which oversees more than $3.5 billion in capital, also purchased Talbots Inc. in 2012.
"It's a big deal for Sycamore," said Liz Dunn, CEO of consulting firm Talmage Advisors. "Sycamore has been one of the more active players in the retail landscape."
Belk has almost 300 locations in 16 Southern states and is pushing deeper into e-commerce. The company was founded in 1888 by William Henry Belk in Monroe, North Carolina.
Sales Growth
For Sycamore, the acquisition represents an ambitious push into a different area of retail. Unlike many apparel brands, which are seen as turnaround opportunities, Belk has been growing over the past five years -- albeit slowly. Revenue rose
1.8 percent to $4.11 billion in the most recent fiscal year, which ended Jan. 31.
"Belk is exactly the kind of investment we look for: an outstanding brand with a proven success formula and the potential for further growth," Stefan Kaluzny, managing director of Sycamore, said in the statement.
The broader department-store industry has stumbled in recent years, hurt by slowing foot traffic at shopping malls and customers seeking bargains. Macy's Inc., the largest department-store company, reported disappointing earnings earlier this month. It's attempting to cope with the slump by experimenting with off-price locations and adding new brands.
Sears Holdings Corp. faces even greater challenges. That company, which runs the Sears and Kmart chains, has posted 21 consecutive quarterly sales declines. To bolster its finances, Sears generated about $2.7 billion through a plan that sells stores to a real estate investment trust and leases them back.
REIT Pressure
Macy's is also under pressure to squeeze more money from its properties with a REIT. Activist investor Starboard Value, which owns a stake in Macy's, has said the retailer's stock would be worth more if it better capitalized on its real estate.
Sycamore is keeping Belk's senior managers in place, a sign the firm will probably look more toward improving operations, Dunn said. Still, high property values may encourage Sycamore to consider a leaseback or REIT option with Belk. The firm also is likely to use the retailer's cash balance to increase its debt, she said.
"Sycamore is a big believer in brick-and-mortar retail, and we've seen some interesting things happening with department-store real estate," Dunn said. "There's a more efficient capital model than what's been historically used with department stores."
The Belk acquisition is slated to close in the fourth quarter of this year. The company is family owned, and a majority of shareholders are in favor of the transaction, according to the statement. Goldman Sachs Group Inc. was Belk's financial adviser, while King & Spalding LLP provided legal advice. Sycamore consulted with Bank of America Corp. and the law firm Kirkland & Ellis LLP.
"We are delighted to have found a financial partner that sees what we see in Belk," Tim Belk, part of the company's third generation of family leadership, said in the statement. "We plan to grow Belk by executing our current strategic initiatives and undertaking new growth initiatives together with Sycamore."