Harry Reid Adds to 'Yes' Votes in Obama Push for Iran Agreement
Angela Greiling Keane and David Lerman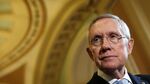 U.S. Senate Minority Leader Harry Reid said he'll support the nuclear deal with Iran, giving President Barack Obama a key Democratic supporter as he tries to line up enough lawmakers to thwart any legislation to kill the agreement.
"I strongly support the historic agreement with Iran and will do everything in my power to ensure that it stands," the Nevada Democrat said Sunday in a Twitter message.
Reid had been one of 18 Senate Democrats who hadn't announced how they would vote on the deal, which Obama sees as a linchpin of his foreign policy achievements. With his backing, Obama now only has to secure seven more votes from lawmakers to sustain a veto. The Washington Post reported Reid's position earlier.
Obama, who is flying back to Washington Sunday from a two-week vacation on Martha's Vineyard, has kept pressure on uncommitted Democrats while he's been away and lawmakers have been on a recess. The White House won't specify whom Obama has called. Eric Schultz, a White House spokesman, declined to comment on Reid's announcement but said the administration remains confident it will get enough votes to support the agreement.
Obama needs 34 supporters in the Senate to be able to sustain a veto, which he's said he expects to issue against legislation from Republican lawmakers to halt the deal with Iran, the U.S. and four other nations. Two Senate Democrats -- Robert Menendez, of New Jersey, and Chuck Schumer, of New York - - have said they'll oppose the Iran agreement. Reid along with 26 other Senate Democrats have announced their support for it and 17 are undecided. No Republican senators have said they'll back it, and the White House isn't anticipating any will.
Opposing Schumer
"This agreement is the best way to prevent Iran's leaders from obtaining the nuclear weapons that would empower them to follow through on their threats to Israel," Reid said in a statement posted on his website.
Taking aim at opponents of the deal who say the accord should be renegotiated, Reid called that position a "fantasy" that would lack any international backing.
"That is not a real option and we should not pretend that it is," Reid said. "Whether we like it or not, the current sanctions regime depends on other countries."
Reid's decision puts him in the unusual position of opposing Schumer, his likely successor as the Senate's Democratic leader. Schumer, in a statement earlier this month, called for a rejection of the Iran deal to "pursue the hard-trodden path of diplomacy once more, difficult as it may be."
In the House, which would require a separate vote to override a veto, at least 59 of the 188 Democrats have said they'll support the Iran deal. Congress has until Sept. 17 to pass a joint resolution blocking the agreement from being implemented.
While Obama has been working to lock up the support he needs, Israeli Prime Minister Benjamin Netanyahu has been working just as hard to muster enough opposition to stop it. The agreement would ease economic sanctions in exchange for curbs on Iran's nuclear program.
For More News and Information: