business
French Investigators Seek Motive as Gunman Denies Terrorism
Helene Fouquet and Marie Mawad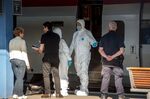 French investigators are trying to figure out why gunman Ayoub El-Khazzani attacked a train headed to Paris as he denies links to terrorism despite police across Europe flagging him as a radical Islamist.
There's no hint of religious motive or affiliation to a radical organization in the 25-year-old Moroccan's statements, according to to a French official with knowledge of the matter, who asked not to be identified because of government policy. He's being questioned near Paris after his attack on a train from Amsterdam was foiled Friday by passengers including U.S. soldiers on vacation. Police must hand the suspect off to the courts by Wednesday, the official said.
"He clearly had no training on using firearms, or he probably could've emptied eight rounds of ammo and we wouldn't be here," Alek Skarlatos, one of the American soldiers, said at a press conference Sunday in Paris. U.S. serviceman Spencer Stone said the attacker's rifle had gotten jammed, which gave him and Skarlatos time to tackle and disarm the gunman.
France is seeking information from its European neighbors as well as Morocco and Turkey to help trace El-Khazzani's movements since he was flagged by Spanish authorities in February 2014 as potentially dangerous and radicalized, the official said. In May, German officials informed authorities in France that the attacker was headed to Turkey, but whether he went there and whether he traveled to Syria is unclear, the official said.
Weapons Seized
El-Khazzani denied going to Turkey or Syria, and said he'd traveled to Spain, Belgium, Austria, Germany and France in the past six months, his lawyer Sophie David told newspaper Le Parisien.
"He's stunned that his actions are being described as terrorism," David told BFM TV in a separate interview. She said the suspect, who spoke in Arabic, was homeless and had planned to hold train passengers for ransom. The attacker found the rifle and other weapons he was carrying near a park bench he'd been sleeping on in Brussels, the lawyer said.
French police seized a rifle, a handgun, ammunition, two mobile phones and a knife, but the attacker carried no identification or administrative documents, the French official said. Fingerprints helped identify him. Initial medical tests didn't reveal any signs of alcohol or drug use by the suspect, the official said.
French President
The gunman, apparently acting alone, came out of one of the train's bathrooms shirtless and carrying a Kalashnikov rifle. He was confronted by a French passenger before being tackled and pinned to the ground by Stone and Skarlatos. Stone, who was wounded by a knife, left the hospital Saturday, while a French-American traveler who was hit by a bullet remains hospitalized.
On Monday morning, French President Francois Hollande will meet with five passengers, including the Americans, who helped foil the attack.
France is on high alert after suffering several attacks this year, including by terrorists against satirical magazine Charlie Hebdo, prompting the government to mobilize 7,000 soldiers to guard vulnerable sites. The interior ministry is maintaining Paris and its region under the maximum "attack threat" level.
(Updates with passenger's comments in third paragraph.)
Before it's here, it's on the Bloomberg Terminal.
LEARN MORE