Mideast Stock Markets Plunge
Sarmad Khan, Ahmed A. Namatalla and Yaacov Benmeleh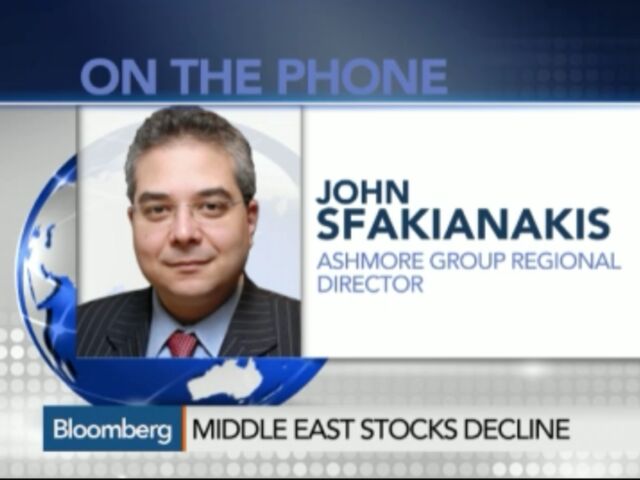 Dubai led a retreat in Middle Eastern stocks that drove Saudi Arabia's index into a bear market, extending last week's global selloff, as crude's decline to a six-year low reverberated through a region dependent on oil and gas exports.
The DFM General Index lost as much as 7.5 percent, the most this year. Saudi Arabia's Tadawul All Share Index tumbled 6.9 percent, taking its decline since 2015's peak in April to 24 percent. Qatar's QE Index fell 5.3 percent, while Israel's TA-25 Index lost 4.1 percent. Egypt's EGX 30 Index slid the most since November 2012. Gauges in Abu Dhabi and Oman declined more than 10 percent since a recent peak, the threshold for a market correction.
The slide in Brent crude, the benchmark grade for more than half the world's oil, to the lowest close since March 2009 is piling pressure on Gulf states at a time when investors are pulling out of higher-risk assets following China's devaluation of the yuan and growing expectations that the U.S. will increase interest rates by year-end. The six-nation Gulf Cooperation Council is home to about 30 percent of the world's proven oil reserves.
Given Saudi Arabia's stature as "a bellwether for the region, we'll probably see more declines," following Tadawul's slump into a bear market, said Tariq Qaqish, who oversees $150 million as the head of asset management at Al Mal Capital PSC in Dubai. "Saudi Arabia is going to have to cut its spending, especially if oil remains at these levels. Otherwise it's going to impact growth of the Middle East's biggest economy."
The MSCI Emerging Market Index closed at the lowest level in six years on Friday as Brent fell to $45.46 per barrel and West Texas Intermediate traded as low as $39.86 per barrel before closing at $40.45 on the New York Mercantile Exchange. WTI may decline to $32 on a persisting global surplus, Citigroup Inc. said Wednesday.
Bear Markets
The Bloomberg GCC 200 Index, which tracks 200 stocks in the GCC, sank the most since October 2008. Abu Dhabi's ADX General Index declined 5 percent, taking losses since a peak in July to 13 percent. Muscat's MSM30 Index lost 2.9 percent, down 12 percent from a high in February.
The bear market in Saudi Arabian equities marks the second in less than a year. Fitch Ratings on Saturday cut the outlook on the nation's AA debt rating to negative from stable, indicating its next decision may be to lower its assessment.
"The Saudi market is taking a cue from global markets and oil prices, which fell further on Friday," Muhammad Faisal Potrik, the head of research at Riyad Capital, said from the kingdom's capital. "Weak economic data from China and the U.S., and Fitch revising Saudi Arabia's outlook to negative is not helping either. The combination of those matrices will reflect negatively on Saudi stocks initially this week, but we'll have to see how oil prices perform toward the end of it."
All but six stocks in Saudi Arabia's 171-member index fell, with Saudi Basic Industries Corp., one of the world's largest chemicals manufacturers, leading the slump with a 9.5 percent loss.
Regional Selloff
"There's indiscriminate selling across the board as regional markets follow the selloff in oil," Ramez Merhi, a Dubai-based director at Al Masah Capital Ltd., which manages $500 million, said by e-mail. "Regional economies could slow significantly if these prices are sustained."
Dubai stocks edged closer to a bear market after the index sank 7 percent to close at 3,451.48, bringing its loss since 2015's peak to 18 percent. Traders exchanged about 340 million shares on the index, 14 percent more than the 12-month average. Dubai-based developer Emaar Properties PJSC led the drop with an 8.3 percent slide to the lowest level since December.
The relative-strength index of Dubai's benchmark gauge fell to 13, the lowest since December. The indicator posted a reading of less than 30 for the rest of GCC markets, Egypt and Israel, indicating to some analysts that they're oversold and may be poised to reverse course.
Israel Drops
The MSCI Emerging Markets Index last week slid below a trading band that support prices for the first time in four years, ending a pattern that technical analysts call a "channel" in favor of bears. The equities gauge, which fulfilled the description of a bear market last week by dropping 20 percent from a peak, is heading for the worst August since 1998.
Concern over a global slowdown is gathering pace after data out of China showed the nation's manufacturing was at the lowest level in more than six years. The global equity selloff that sent gauges in Taiwan, Brazil and Indonesia into bear markets is starting to show up in Israel, which was relatively unscathed last week with a 1 percent decline.
Israel's TA-25 Index slumped the most since September 2011, led by Bank Leumi Le-Israel's 5.1 percent drop.
"The panic has reached Israel," Tel Aviv-based Adi Babani, a trader at Bank of Jerusalem Ltd., said by e-mail. "It's not as bad as other markets around the world, but investors are certainly concerned about global economic growth because Israel's economy so heavily depends on international trade. Also, the Bank of Israel's interest rate decision is tomorrow, which is holding back the declines as some expect a cut."
Two of the seventeen economist surveyed by Bloomberg forecast the country's central bank will reduce the base lending rate on Monday from a record low of 0.1 percent. The remainder predict no change.
Israeli bonds rose for a third day, with the yield on the country's 1.75 percent securities due August 2025 falling three basis points to 2.12 percent.
Egypt Slumps
Egypt's benchmark EGX30 Index retreated 5.4 percent, led by Commercial International Bank Egypt SAE's 5.2 percent drop. The company accounts for about 35 percent of the gauge.
"The weakness in global markets is hitting us, much like the Gulf," said Ashraf Akhnoukh, the manager for Middle East and North Africa at Cairo-based CI Capital. "But you have to add to that Egypt's own set of problems, including repatriation of foreign funds, no parliament and a declining likelihood of getting aid from the Gulf as oil drops."
The North African country's central bank has limited access to foreign currency and placed restrictions on outward transfers since the onset of the 2011 Arab Spring in order to cope with a shortage of dollars resulting from the slump in tourism and foreign investment.
The Egyptian pound is one of the world's most vulnerable currencies to a possible devaluation following Kazakhstan's decision Thursday to weaken its tenge, according to John-Paul Smith, the ex-Deutsche Bank AG strategist who predicted Russia's 1998 crisis and this year's China rout.
(An earlier version of this story corrected the scale of Brent's move in the third paragraph.)
Before it's here, it's on the Bloomberg Terminal.
LEARN MORE