business
Bullish Oil Bets Sink to 5-Year Low as Futures Flirt With $40
Dan Murtaugh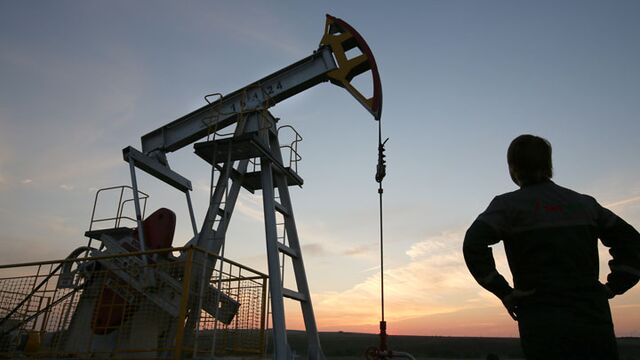 It's pretty lonely being an oil bull these days.
Hedge funds reduced their net-long position in West Texas Intermediate crude to a five-year low last week, days before prices fell below $40 for the first time since 2009. Citigroup Inc. said it could get worse, with the U.S. benchmark slumping to $32 on a persisting supply glut.
Futures are mired in the longest slide since 1986, weighed down by nearly 100 million-barrel supply glut. A spate of outages and fires has sapped U.S. refiners' capacity to consume the stockpiles before plants shut for seasonal maintenance. Gasoline demand, which has been averaging the highest since 2007, is poised to decline after the Labor Day holiday in early September.
"Labor Day is right around the corner and demand for crude oil is going to go down with the refinery maintenance season, and the market doesn't see anything to get bullish about," Andy Lipow, president of Lipow Oil Associates LLC in Houston, said by phone. "Prices are going to remain under pressure for quite some time."
The net-long position in WTI slipped by 6,342 contracts, or
6.4 percent, to 93,406 futures and options in the week ended Aug. 18, U.S. Commodity Futures Trading Commission data show. Shorts fell 2.7 percent while longs plunged by 4.1 percent. Prices extended declines on Monday, falling 3.9 percent to $38.89 a barrel at 1:35 p.m. on the New York Mercantile Exchange.
Rising Supplies
Crude supplies in the U.S. rose 2.62 million barrels the week ending Aug. 14 as imports rose and refinery use slipped. BP Plc has shut the main crude unit at its plant in Indiana, the largest in the Midwest, for at least a month to make repairs. Three facilities from Texas to Delaware reported fires last week.
Over the past five years, gasoline demand has fallen 4.8 percent in September, EIA data show.
In other markets for the week covered by the report, net bullish bets on Nymex gasoline rose 7.9 percent to 14,624. Futures fell 2.8 percent to $1.6468 a gallon. Net bearish wagers on U.S. ultra-low-sulfur diesel decreased 3.5 percent to 29,483 contracts. Diesel futures fell 0.3 percent to $1.5586 a gallon.
U.S. crude output is 9 percent higher than a year ago even though the number of rigs has been cut in half since October as producers target the best part of their acreage and improve their efficiency. Drillers added two rigs seeking oil last week.
"Production's not really falling off the way people expected," Carl Larry, head of oil and gas for Frost & Sullivan LP in Houston, said by phone. "Break-even costs for wells are falling closer to $30 than $50. Nobody's going to slow down."
Before it's here, it's on the Bloomberg Terminal.
LEARN MORE