Christie's Iowa Fair Visit Turns Hog Wild
The New Jersey governor, known for his tough talk and town hall politicking, said he felt right at home with the theatrics.
By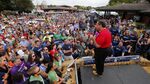 Animal rights protesters disrupted Chris Christie's political soapbox appearance Saturday, one of several unscripted moments during the New Jersey governor's visit to the Iowa State Fair.
Another man held up a corn dog in a sexually explicit way and asked Christie to show what he does to corporations and others who donate campaign money to him.
"This is a wise guy who forgets that I'm from New Jersey," the Republican presidential candidate shot back at the man. "You're minor league compared to what I deal with most of the time, brother."
Minutes later, three animal rights protesters jumped on the stage to try to draw attention to Christie's November veto of a bill that would have stopped farmers from confining breeding pigs in so-called gestation crates, which opponents have called inhumane.

"Animals want to live," some in the audience chanted, as two men and one woman jumped on the stage, before quickly being grabbed by members of the Iowa State Patrol.
None of it was in keeping with the "Iowa nice" tradition that Des Moines Register organizers ask for from the audience before any speaker takes their stage at the fair.
"When something like that happens, and I'm here in Iowa, man I feel right at home," Christie said as he regained control of the stage. "I believe that farmers should be able to make the decisions about how best to raise their livestock, not government bureaucrats."
The moment was even more dramatic than one earlier this week on the same stage when protesters disrupted a speech by Wisconsin Governor Scott Walker, another Republican presidential candidate. Later in the day, Iowa Governor Terry Branstad gave Christie a tour of gestation crates in one of the animal barns at the fair.
In his soapbox appearance, Christie launched immediately into a question-and-answer session with the audience, rather than first giving a speech or only giving a speech, as virtually all participants typically do.
Asked about the stock market's drop and China's currency devaluation, Christie downplayed the importance of the world's second-largest economy.
"To strengthen our economy, we don't need to worry about China," he said. "We need to worry about what's happening in the United States of America. Our taxes are too high, the tax code is rigged for the rich—not for everyday working folks."
As was the case for Christie, Louisiana Governor Bobby Jindal also confronted immigration protesters during his appearance at the soapbox.
"If you want to come to our country, come legally, learn English, adopt our values," Jindal said to cheers. "And when you get here, roll up your sleeves and get to work."
It wasn't just the Republicans who were protested Saturday at the fair. Democratic National Committee Chairwoman Debbie Wasserman Schultz, also a U.S. Representative from Florida, faced angry calls from those in her own party demanding more presidential primary debates.
"I'm just calling out my own party's hypocrisy," said Jim Freerksen, a protester from Des Moines who wants to see his party hold more than the currently scheduled six debates.