North Korea Moves Rocket Launchers as South on War Alert
Sam Kim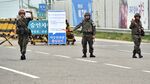 South Korean forces remained on high alert ahead of a deadline for a threatened attack by North Korea as the latest skirmish between the two nations intensifies.
North Korean leader Kim Jong Un's troops along the border deployed "multiple rocket launchers" and "entered into a wartime state," the official Korean Central News Agency said. Kim gave South Korea until 5:30 p.m. in Seoul on Saturday to stop broadcasting propaganda across the demilitarized zone or face further attacks after exchanges of fire on Thursday.
The confrontation is one of most serious since Kim became supreme leader 3 1/2 years ago and began consolidating power through purges and provocations against the South. The uneasy truce between the two Koreas has been periodically disrupted by exchanges of fire, though they've petered out before turning more serious.
South Korean stocks fell to a two-year low and the won retreated 0.8 percent Friday as China expressed concern, urging both sides to avoid escalation.
"Nothing can be guaranteed at this moment," Lee Ho Chul, a political science professor at Incheon National University in South Korea, said by phone. "But neither side wants a clash to escalate because Kim can't afford to fight joint U.S.-South Korean forces and Park can't afford to let the economy be shaken."
North Korea fired shells into South Korean territory Thursday, prompting the South to respond with a barrage of artillery. The North denied firing on the South. As South Korea put its military on high alert, President Park Geun Hye canceled her public engagements and visited an army base Friday.
'Irreversible' Point
"The situation is at an irreversible brink of war," North Korean foreign ministry said Friday in a statement carried by KCNA. "For decades we've restrained. Now, no calls for restraint by anyone can help mitigate the situation."
The benchmark Kospi index fell 2 percent to close at its lowest since Aug. 23, 2013. Romanson Co. and Shinwon Corp., which do business in the Gaeseong industrial complex jointly run by the two Koreas, fell as much as 8.2 percent and 9.5 percent before paring losses. Among defense-related stocks, Speco Co. surged 19 percent while electronic-warfare equipment maker Victek jumped 29 percent.
South Korea is monitoring markets and is prepared to take action to offset any turmoil caused by the North Korean situation, Vice Finance Minister Joo Hyung Hwan told reporters. Policy makers are also watching for risks stemming from U.S. monetary policy and China's slowdown, he said.
Bank Meets
The Bank of Korea held a meeting to discuss the impact of North Korea's actions, Park Sung Joon, a press official, said by phone. China opposes any action that creates tension and urges dialogue, Foreign Ministry spokeswoman Hua Chunying said in a statement on the ministry's website.
The risk of an armed clash is increasing, Cheong Seong Chang, a senior analyst at the Sejong Institute near Seoul, said by text message. "If South Korea responds in a very unyielding way and North Korea also does so, heavy damage would be inevitable to both sides," he said.
Tensions have flared in recent weeks across the DMZ that bisects the Korean peninsula, more than 60 years after the Korean War ended in a stalemate. Two South Korean soldiers were maimed Aug. 4 by land mines that the government in Seoul says were recently laid by North Korea. North Korea denied setting the devices.
South Korea retaliated by resuming propaganda broadcasts through loudspeakers in the DMZ for the first time since 2004. North Korea threatened "indiscriminate attacks" over the broadcasts and slammed the U.S. and South Korea for starting annual joint military drills that the North calls a rehearsal for invasion.
Nuclear Ambitions
North Korea previously declared "a state of war" during U.S.-South Korean drills in 2013, a month after conducting its third nuclear test. In 2010 North Korea shelled a front-line South Korean island, killing two marines and two civilians. Last year, their ships exchanged warning fire near a disputed Yellow Sea boundary.
Kim has also refused to bow to international pressure to drop his nuclear ambitions before aid talks can resume and continues to develop nuclear capabilities along with ballistic missiles.
South Korea's growth path "has already been haunted" by several unexpected events since the second quarter, Jiwon Lim, an economist at JPMorgan in Seoul, said in a note. That's "keeping financial markets relatively cautious in interpreting potential impact of geopolitical risks on the Korea economy."