business
Emerging Stocks Have Worst Week Since 2012 as Bears Take Charge
By , , and
Developing-nation equities slip below `channel' trading band

Emerging-markets gauge ends week at lowest level since 2009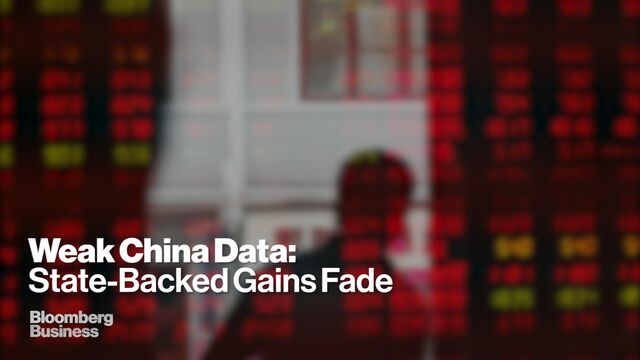 Emerging-market stocks slid below a trading band for the first time in four years as a rout exacerbated by China's yuan devaluation sent the benchmark gauge to the worst weekly drop in three years and currencies to the longest run of losses this century.
The MSCI Emerging Markets Index, the measure covering nations from China to Peru, fell below a level that had supported prices since October 2011, ending a pattern that technical analysts call a "channel" in favor of bears. Taiwan, Brazil and Indonesia entered a bear market this week while Turkey was on the cusp of a 20 percent retreat from their peaks earlier in the year. The Russian ruble fell to a record closing low, leading a ninth weekly retreat in emerging market currencies.

Price swings in developing-nation stocks have surged to a two-year high in the run-up to a projected increase in U.S. interest rates next month amid concern investors will shift capital to dollar assets. A slump in commodity prices led by oil and China's surprise decision Aug. 11 to cheapen the yuan are deepening the decline as central banks vie with each other to reclaim competitiveness through currency devaluations.
"Lots of negative news from emerging markets this week, we are seeing big concerns about what is going to happen in China next, issues in Brazil, Turkey," David Kelly, chief global strategist at JPMorgan Funds, said in a phone interview. "What's also weighing on markets is uncertainty as to what will happen when the Fed raises interest rate, there is uncertainty about how the markets will handle the rate increase."
The MSCI Emerging Markets Index fell 2.2 percent to 812.38 on Friday in New York as data showed that Chinese manufacturing is at the weakest since the global financial crisis. The equities gauge, which fulfilled the description of a bear market last week by dropping 20 percent from a peak, is heading for the worst August since 1998. It lost 6 percent this week.
Weaker Manufacturing
The Shanghai Composite Index lost 4.3 percent, coming within one point of its low during a $4 trillion selloff last month. The preliminary PMI for China from Caixin Media and Markit Economics fell to 47.1 for August, the lowest in more than six years, suggesting the economy will need further policy support to stem a deepening slowdown.
A gauge of developing-nation currencies extended a record low. The ringgit and South Korea's won dropped at least 1 percent, while India's rupee retreated to a 2013 low.
The ruble dropped 1.7 percent to 69.1080 against the dollar on Friday in New York. The currency retreated to a record closing low as it capped the longest stretch of weekly losses since the nation allowed the exchange rate to trade freely in November.
In Taiwan, the Taiex Index tumbled 3 percent, the lowest since June 2013. The stock measure has fallen 22 percent from an April peak. Taiwan Semiconductor Manufacturing Co. sank to a 10-month low.
South Korea's Kospi index declined 2 percent. North Korean leader Kim Jong Un has ordered his troops to be fully armed and ready for combat operations after his army traded fire with South Korea across the demilitarized zone.
The Jakarta Composite Index has dropped 5.4 percent this week, extending its slump from an April 7 record high to 22 percent.
Repeat Elections
Turkish stocks fell to the lowest since October as President Recep Tayyip Erdogan prepared to call premature polls after talks to form a coalition government by those elected in a June 7 vote failed. The Borsa Istanbul 100 Index closed below 27,000 in U.S. dollar terms for a fifth day, breaking below a level that supported stock prices since 2010. South African stocks slipped 1.5 percent in Johannesburg on Friday for the biggest weekly decline in four years.
MSCI's developing-nation equity index has fallen 15 percent this year and trades at 10.5 times projected 12-month earnings, data compiled by Bloomberg show. Its 14-day relative strength index fell to 15.6 on Friday, the lowest since June 2013. The MSCI World Index has lost 3.4 percent in 2015 and is valued at a multiple of 15.3.
Before it's here, it's on the Bloomberg Terminal.
LEARN MORE