Do Team Clinton's Comments About Her E-Mail Use Hold Up?
The Democratic presidential contender's comments are accurate. But there's more to the story.
By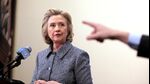 As Hillary Clinton's presidential campaign embarks on what one senior adviser described to Bloomberg Politics as a "relatively aggressive education process" about the former secretary of state's use of a private e-mail server to conduct government business, staffers and the candidate herself have relied on a set of talking points to confront questions from the media.
How well do they hold up? Let's fact-check what Clinton and her campaign have been saying:
"The laws and regulations in effect when I was secretary of state allowed me to use my e-mail for work. That is undisputed."
Clinton's claim when she first addressed the story of her e-mails in March appears to be true, but it's also true that the practice was greatly discouraged. A June 2011 department cable sent in Clinton's name admonished employees: "Avoid conducting Department business from your personal e-mail accounts."
Regulations that go at least as far back October 2009, just a few months after Clinton began her four-year tenure at State, also mandated that agencies allowing personal e-mail use "must ensure that Federal records sent or received on such systems are preserved in the appropriate agency recordkeeping system." Clinton has said the fact that was e-mailing with other people who had state.gov accounts meant her messages were recorded in the department's automatic record-keeping system for emails on its domain. Yet at least one key aide with whom she regularly communicated used an e-mail account on Clinton's private server, according to recent court filings detailed in Politico. There are also numerous business-related e-mails between Clinton and people who didn't work at State.
The legality of using a private e-mail account and server could get murkier depending on the types of communications is was used for. Michael Mukasey, an attorney general under President George W. Bush, speculated in an August 14 op-ed in the Wall Street Journal that holding e-mails on a private server "was a violation of" laws that prohibit people from knowingly keeping "classified information... at an unauthorized location." Which brings up another major point of contention:
"I did not send, nor did I receive material marked classified."
The outcome of investigations may turn on whether what Clinton said Saturday in Iowa turns out to be true. No e-mails that have been released to date bear markings showing them to be classified, but the intelligence community's inspector general, however, said that some information there should have been. Bloomberg has also learned that law enforcement officials are investigating how some classified material found its way into messages that aides sent Clinton. Even if classified material wasn't copied verbatim into a private email, paraphrasing it also could pose a legal problem, several former members of the intelligence community told Bloomberg.
"She did have her own e-mail account. Others had done it before."
It's true, as the Clinton campaign's communications director, Jennifer Palmieri, said in a Wednesday interview with Bloomberg Politics, that the Democratic presidential front-runner was not the first secretary of state to use a private email account.  At least one of Clinton's predecessors, former Secretary of State Colin Powell, along with a number of other Cabinet officers, have primarily used private e-mail to conduct business while in office. No secretary besides Clinton, however, is known to have operated a private e-mail account on a privately-owned server, putting the e-mails further out of reach than those run through a commercial service. 
"Nobody talks to me about it other than you guys."
Clinton tossed this line out after cutting short a press conference Tuesday. That may be true on the campaign trail, where her events are carefully controlled, along with her interactions with the public. But the issue is guaranteed to be kept before the public by its elected representatives, or at least the Republicans who control Congress. Clinton will testify before the House Committee on Benghazi on October 22. Republicans on the panel have been pressing the inquiry about Clinton's e-mails; Democrats dismiss the proceedings as an attempt to sabotage Clinton's campaign. More recently, two Senate committees -- Judiciary and Homeland Security & Government Affairs have also begun making inquiries into the Clinton's e-mails. And while Clinton and her saids have said voters don't care about the issue, recent polls, have given her low ratings on issues of trust and honest as the story has unfolded.