Do Team Clinton's Comments About Her E-Mail Use Hold Up?
The Democratic presidential contender's comments are accurate. But there's more to the story.
By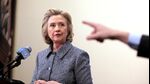 As Hillary Clinton's presidential campaign embarks on what one senior adviser described to Bloomberg Politics as a "relatively aggressive education process" about the former secretary of state's use of a private e-mail server to conduct government business, staffers and the candidate herself have relied on a set of talking points to confront questions from the media.