business
China Said to Consider Policy Shift to Put Population Growth Before Economy
Bloomberg News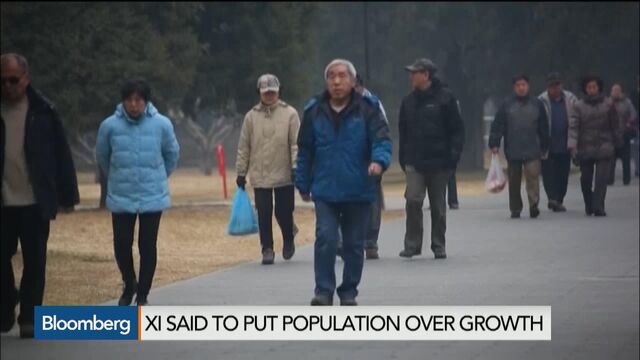 Facing a demographic time bomb that threatens China's economic rise, President Xi Jinping is considering shifting his priority to population growth, according to a person familiar with the discussions.
Xi's economic planners may for the first time emphasize "population policies" over gross domestic product in the country's next development blueprint, said the person, who asked not to be identified because the talks are private. The focus sets the stage for a host of rule changes regarding health, pensions, social welfare and possibly lifting the caps on children some families can have, the person said.
More than three decades into an industrial boom that has created the world's second-largest economy, China's struggling to get rich before it grows old. The working-age population shrank for the first time in at least two decades last year as growth slowed, echoing Japan's downturn in the late 1990s. As part of the shift, the party may lower its hard growth target of 7 percent to a range between 6.5 percent and 7 percent and make that a flexible guideline, the person said.
Mu Guangzong, a professor at Peking University's Institute of Population Research, said that avoiding the same fate requires immediate action to loosen birth limits and strengthen the social safety net for the elderly.

"Reform is lagging too far behind and has been too cautious," Mu said. "We must move from restricting childbirth to encouraging it as soon as possible. We must complete a thorough change of population policy."
One-Child Policy
The "one-child" policy, which limits most couples to one or two children depending on ethnic background and where they live, was a cornerstone of late leader Deng Xiaoping's efforts to overhaul the economy. When the policy was adopted 36 years ago, the thinking was that the birth rate of almost 3 children per woman was a drag on growth.
The cap has since been relaxed and calls to lift it completely have gained traction as the fertility rate plunged and eroded the labor pool. In December 2013, the legislature allowed couples to have two children if either parent was an only child.
The challenge China faces is motivating parents like Feng Yanbin, 37, of Beijing, to give her daughter a brother or sister. The cost of raising a second child has deterred Feng and her husband, even though they're eligible.
"To have a child in China is a test of a family's economic strength," Feng said. "The policy has been changed, but the younger generation in the cities still need to consider their economic situation before having a baby."
Five-Year Plan
About 1.5 million couples had applied for a second child under the new policy as of May, according to the National Health and Family Planning Commission. That lagged official projections of an additional 2 million new births annually.
The results have fueled calls for a more dramatic approach as Xi finishes the country's next five-year plan, a Stalinist holdover of China's old command economy. The plan was expected to be discussed with Communist Party elders earlier this month before approval at party meetings in October.
"The dependency ratio is increasing, the pace of aging is quickening and the working-age population is shrinking," said Ren Yuan, a deputy director of the Institute of Population Research at Fudan University in Shanghai. "The 13th five-year plan needs to be tailored to manage the sustainable and balanced growth."
Liu He, who manages the day-to-day activities of Xi's Central Leading Group for Financial and Economic Affairs, is overseeing the plan, the person familiar with the matter said. His team has studied the lessons of Japan in dealing with its own demographic bubble, the person said.
Diapers, SUVs

The number of people 15 to 64 years of age fell about 1.6 million last year, according to the National Bureau of Statistics. Like Japan, the decrease has coincided with a slowdown in China's economy, which is on track this year to grow at its slowest pace in a quarter century.
The policy shift raises the prospects for new demand for everything from health care to SUVs. Shares of Hengan International Group, which makes diapers and other personal hygiene products, rose 2.2 percent to HK$80.70 in Hong Kong amid a 1.5 percent drop in the benchmark Hang Seng Index.
"The whole Chinese economy will benefit if the policy succeeds," said Steve Wang, the chief China economist at Reorient Financial Markets Ltd. in Hong Kong. "Chinese families spend a lot of money on children's health and education."
Graying Population
In 2050, about one-third of Chinese will be 60 or older, compared to just 12 percent in 2010, according to United Nations projections. The aging society is already straining the social safety net and providing another cost consideration for parents such as Wang Hongye, a 30-year-old mother from Beijing.
"I don't want a second child," said Wang, who's concerned about providing the son she has with an apartment and nice wedding. "We are also under pressure to pay our own mortgage and to feed our parents as they get older."
The emphasis on population policies suggests a broader agenda focused on pensions, social welfare and health care, as well as family planning policies.
"An adjustment to childbirth policy alone can no longer solve our profound population crisis," said Mu of Peking University. "We must accompany it with social and public policies such as senior care policies. Society should provide a safety net."
For more, read this QuickTake: China's Pain Points
— With assistance by Keith Zhai, and Hui Li
(Updates with closing share prices under Diapers, SUVs subheadline.)
Before it's here, it's on the Bloomberg Terminal.
LEARN MORE