What Cheap Gas Did to Tens of Thousands of Coal Jobs
No U.S. coal basin is feeling that pain like Central Appalachia in West Virginia, eastern Kentucky, and neighboring states
By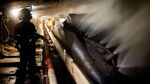 The U.S. coal industry is in shambles, and the casualties are mounting. There are bankruptcies, mothballed power plants, and most dramatically, unemployed miners.
Since 2011, when coal prices began an unrelenting slide, cash-strapped companies have cut almost 10,000 jobs a year. That's a pace of downsizing not seen since highly productive mining machinery (pdf) proliferated in the 1980s and early 1990s, shrinking the need for manpower.

This time, though, U.S. coal production is going down, not up. China's slowing imports of the fuel are one reason. A bigger one is the boom in cheap natural gas, which has taken market share from coal at power plants and will probably keep doing so.
"The shale revolution has driven natural-gas prices so low that it makes sense for utilities to switch fuels," William Foiles and Andrew Cosgrove, Bloomberg Intelligence analysts, said in a recent note. "More coal miners will likely find themselves out of work."
No U.S. coal basin is feeling that pain like Central Appalachia, the mountainous stretch of southern West Virginia, eastern Kentucky, and neighboring states that looms large in American lore as the cradle of the coal industry.

"It's the oldest mining region in the country and tends to just be higher cost in nature," says Jeremy Sussman, a New York-based analyst at Clarksons Platou Securities. "Operators there tend to be less able to compete with natural gas than in newer coal regions like the Illinois Basin."

That trend has devastated such places as Boone County, W. Va., once the undisputed heavyweight of coal in the state. Production there was down 67 percent last year compared with 2008, according to the West Virginia Office of Miners' Health Safety and Training, and down just as much were the number of coal miners.