Swing-State Poll Suggests Joe Biden Opening
While Clinton's still the top choice of Democratic primary voters, the vice president does better against Republican candidates.
By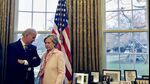 Joe Biden is running as strong or slightly stronger than Hillary Clinton in prospective general election match-ups against Republicans Donald Trump and Jeb Bush in three big swing states, Florida, Ohio and Pennsylvania, according to a new survey that may influence the vice president's thinking as he considers a run.
The Quinnipiac University swing-state poll released Thursday shows Clinton remaining a formidable candidate for the Democratic nomination: The former secretary of state is still the top choice by far of Democratic voters asked about their primary choices. But it marked the first time this year that Quinnipiac has had Clinton's share of the primary vote below 50 percent in the three swing states, said the survey's assistant director, Peter Brown. Her unfavorable ratings were between 54 percent and 55 percent in all three states. The unfavorable ratings for Biden, who is expected to say whether he'll run by late September, were between 42 percent and 43 percent. 
In answers to questions about their primary election choices, Clinton was the top choice for Democrats, at 48 percent in Florida, 47 percent in Ohio and 45 percent in Pennsylvania. Vermont Senator Bernie Sanders was second with 15 percent, 17 percent and 19 percent respectively. Biden was third, at 11 percent, 14 percent and 17 percent respectively. Martin O'Malley, Jim Webb and Lincoln Chafee were at or below 1 percent.
Most provocative, given the timing of the vice president's decision-making process, were the numbers for hypothetical general-election match-ups.
In a contest against Republican front-runner Trump, Clinton narrowly wins two out of the three states Quinnipiac surveyed, emerging ahead in Ohio and Pennsylvania by 5 percentage points each and behind by 2 percentage points in Florida. Biden, however, pulls a hat trick, besting Trump by 3 percentage points in Florida, 10 in Ohio and 8 in Pennsylvania. Against Bush, the Republican with the biggest campaign war chest, Clinton trails by 11 percentage points in Florida and 3 in Pennsylvania; she leads Trump by 2 percentage points in Ohio. Biden trails Bush by 13 percentage points in Florida and 1 in Pennsylvania; Biden leads Bush by 3 in Ohio.
"These are the kind of numbers that the people trying to convince Vice President Biden to run will use to their advantage," Brown said. "As they say on Wall Street, assets are being reevaluated, and does that reevaluation create an opportunity for him?"
The survey also found Marco Rubio performing stronger than Bush and Trump against Clinton in general election match-ups in the three states. Rubio was leading Clinton in Florida, 51 percent to 39 percent; in Ohio, 47 percent to 40 percent; and in Pennsylvania 42 percent to 40 percent.
Another key finding: if Bush were the Republican nominee and Trump ran as a third-party candidate, Clinton would have a significant leads Ohio and Pennsylvania and might beat Bush in his home state. The survey did not ask the same question with Biden in the mix.
More than half of voters in all three states said Biden and Bush are trustworthy, while 40 percent or fewer said the same about Trump. Clinton fared even worse, with 60 percent of voters or more in each of the three states saying she is not honest or trustworthy.
"There's pressure on him to run from those who think that Secretary Clinton isn't the candidate they once hoped she would be," Brown said. "There's been a drip, drip, drip of her support; she's like a leaky faucet in her numbers." Yet Brown said that Biden's popularity now may be boosted by the fact he is not yet a candidate, not yet being scrutinized, not yet making errors on the stump. "Remember, Secretary Clinton never did so well as before she was an active candidate," he said.
In the poll, Clinton, Trump and Bush all scored better than Biden on the question of whether they exhibit strong leadership qualities.
Although it suggests that Trump is not the Republicans' strongest general election candidate, the survey shows he remains a powerful primary contender. Conducted Aug. 7-18, well after the controversy that followed his performance in the Fox News debate earlier this month, it puts Trump at the top of the field of Republican candidates in Pennsylvania and in Florida—where his rivals Bush and Marco Rubio have both been statewide officeholders. In Ohio, Trump runs a close second behind that state's governor, John Kasich. 
The poll surveyed 1,093 Florida voters, 1,096 Ohio voters and 1,085 Pennsylvania voters, with margins of error of plus or minus 3 percentage points.