Spanish Go Back to the Building Site While Wages Go Nowhere
Maria Tadeo and Sharon Smyth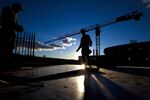 Spain's once-ravaged construction industry is creating jobs at the fastest pace in almost three years. Well-paying jobs will take longer.
The country that used to build more houses than France, Germany and the U.K. combined added 32,300 construction jobs in the second quarter, the fifth consecutive period of expansion, according to the National Statistics Institute. Unions agreed to a minimum-wage increase that's below the national average after a two-year freeze as Europe's second-highest jobless rate favors employers.

"During the good times, you'd get paid 8 euros an hour, maybe 10; now it's 5, if you have a job," said Fernando Fernandez, a 38-year-old foreman who landed his first construction job in 1998. "We never imagined a drop so brutal."
Foreign investors are seeing opportunities to build as Spain's economy rebounds from a debt-fueled property collapse that left the country with a surplus of 1.4 million homes. Increasing construction and a rise in home sales isn't yet trickling down to workers, who face longer hours, lower pay and little job security.
U.S. private equity firm Varde Partners LP this month bought Banco Popular SA's 25 percent stake in developer San Jose Desarollos Inmobiliarios as it bets on a recovery. Minneapolis-based Varde will carry out a 60 million-euro capital increase in San Jose to finance the construction of 1,500 homes across Spain, following Lone Star Funds, which is investing 500 million euros buying land to build residencies.
Economic Recovery
Spain's economy is expanding at the fastest pace in eight years and twice the average for the euro area following the worst recession in the country's democratic history. Despite the progress, the International Monetary Fund this month expressed concern about "very high" unemployment, low productivity and high levels of debt. Joblessness stands at about 22 percent, second only to Greece.
The Spanish construction industry will grow by 3 percent in 2015 after seven years of decline, with most of the increase coming from refurbishment of residential and commercial buildings and about 45,000 homes being built, according to a report by Spanish credit institution Cesce. Growth will accelerate in 2016, it said, without being more specific. Home sales surged 17 percent in June from a year earlier, the biggest gain since March 2014, the statistics institute found.
To put the job gains into perspective, the industry employed about 1.1 million people as of June compared with 2.7 million jobs at the market's peak in the first quarter of 2008, according to the Ministry of Public Works. The 59 percent drop compares with decreases of 25 percent in industrial jobs, 15 percent in agriculture and 1.4 percent in services.
Long Hours
Builders put in 449 hours of work in the first quarter, compared with an average of 402 hours for all the other industries in the country, according to labor research by Randstad in Spain.
Construction wages fell 4.4 percent from their peak in 2010 through 2014, the biggest drop among professions in Spain, savings bank foundation Funcas said in a report. Building industry unions accepted a 0.6 percent minimum wage increase compared with a 1 percent national pay hike agreed by unions earlier this year. The rise applies to salaries of 15,480 euros a year to 17,965 euros, according to data from the state bulletin.
"Wages will never get back to where they were," Jose Garcia-Montalvo, an economics professor at Pompeu Fabra University in Barcelona, said in an interview. "Demand for construction will grow, but the level of output will never get back to the peak and absorb the more than one million unskilled workers that have been left without jobs."
Representatives from building-industry groups Confederacion Nacional de la Construccion, SEOPAN and Asociacion Nacional de Constructores Independientes weren't available to comment.
Biggest Risk
For workers who started out in the industry as teenagers and count construction as their only source of income, the biggest risk remains getting stuck in long-term unemployment.
"For those who have been out of work for more than two years, their chances of re-entering the labor market are dramatically slimmer," said Marcel Jansen, an economics professor at the Autonomous University of Madrid.
Its not much better for workers like Fernandez who have construction jobs. "We've gone from making 3,000 euros a month to worrying about not being able to pay the bills," he said. "I don't see a recovery, that's not my reality."