Small to Big: Sky Zone
Business for the trampoline park chain is jumping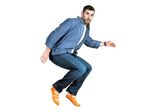 "We charge people to jump," says Jeff Platt, Sky Zone co-founder and chief executive officer, of the trampoline parks franchise business he started with his father, Rick. Customers pay by the half-hour to don orange socks and bounce at one of Sky Zone's 107 locations. That's a lot simpler than the original plan—to create a professional sport that mixed football, hockey, and basketball played on trampolines. It didn't take off, so the Platts converted their Las Vegas training facility into a place where kids (and adults in touch with their inner child) could jump around. —Interview by Kate Rooney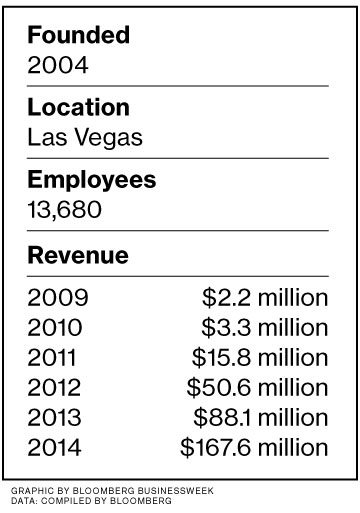 The first location was really meant to be a training ground for a new sport—there was a big court and some lockers. When we opened it up to the public, our bathrooms weren't up to code. We didn't have party rooms. So the space morphed over time.
If you're opening a pizza shop, you can find consultants who have opened pizza shops before. They can give you an equipment layout, they can give you your systems and your marketing tools. No one had ever done that for a trampoline park. We had to invent the equipment.
Injuries do happen. A trampoline, like any other activity, involves risk. We've been in business over 10 years and had well over 20 million people jump. We've learned from that experience on how to mitigate risk. It's never something we're satisfied with. We have an insurance company, we have a vice president of risk management, but no in-house legal.
We've added dodgeball, foam pits, and the ability to slam-dunk a basketball, and we do birthday parties, fitness classes, and after-school programs. We're opening spots in the U.K., Saudi Arabia, Kuwait, and New Zealand this year.
I don't like the word "exercise" because it makes it feel like we're a gym. We're not a gym. We're about promoting movement and expression through movement. You're coming for that sense of freedom you feel when you're 5 to 7 feet in the air, you're flying, and that's the coolest feeling in the world. You don't have to be an athlete, you don't have to be in shape to jump on a trampoline. But you're getting a really good workout.
The socks have become a really big part of our brand. I was wearing them once in an airport, and a security guard looked at my socks and said, "Oh, you go to Sky Zone?"
Before it's here, it's on the Bloomberg Terminal.
LEARN MORE