Boosting Youngsters' Emotional IQs
The Mother Company's videos get kids in touch with their feelings
By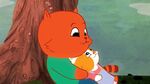 As a working mom, Abbie Schiller relied on 30 minutes of television in the morning and the evening to keep her toddler occupied. There was plenty of programming that taught kids to count and spell, but the Los Angeles resident saw a void when it came to social and emotional learning. So Schiller, who was head of public relations for ABC Daytime, improvised. "My daughter was really into the Disney princess franchise," she says. "I would put my own spin on these stories—the stepmother would be misguided instead of wicked. I would use those stories as an opportunity to develop empathy and kindness instead of making judgments."
Schiller left ABC in 2007 to focus full time on creating videos and books that help kids cope with strong emotions, like jealousy and anger, and sticky situations, like getting lost. She and her husband, Marc Gordonson, a digital advertising executive, sold their house and moved in with her parents. She reached out to a former classmate, filmmaker Samantha Kurtzman-Counter, also a mom, for advice on how to produce her own videos. Kurtzman-Counter agreed to do the pilot.
The women began pitching parents at parks and friends' houses and raised $500,000 in six weeks, enough to make their first video, The Feelings Show. Gap signed on as a sponsor and held a special in-store promotion for the launch. Schiller and Kurtzman-Counter formed the Mother Company in 2010 and have since released four videos (download $12.99, DVD $14.99), 10 picture books that reinforce lessons from the shows ($12.95 each), and an iPhone app (99¢). The titles are sold through the company's website, as well as on Amazon.com, on iTunes, and at more than 1,000 stores.
The Mother Company's 45-minute videos tackle issues such as sibling rivalry and safety through a combination of animated sketches , segments with live actors, and music videos. An animated sketch on overcoming frustration is narrated by Mel Brooks, whose son went to high school with Schiller and Kurtzman-Counter. Some TV shows, such as Sesame Street, cover similar territory. But Mother Company videos are already among the strongest in the social and emotional learning category, says Seeta Pai, vice president for research at Common Sense Media, a nonprofit that rates kids' media. Common Sense gave all four videos its highest rating.
Schiller says after she drafted her initial business plan, she met with three investors; each offered her $2 million in exchange for control of her concept. She turned them down: "My intuition was telling me, 'Get away from these people. They don't have the company's best interest at heart.' " Instead, the co-founders recruited 23 angel investors, almost all mothers, willing to chip in from $6,000 to more than $2 million, for a total of about $5 million.
The company has had double- and triple-digit revenue growth every quarter, its books are sold in nine countries, and the partners say they're in talks with the Public Broadcasting Service about national syndication of video content, according to Schiller. She's exploring partnerships with larger companies to expand the company's distribution network and digital presence, but she has no intention of handing over the reins. "When we started, people in children's television told us that we'd never find an audience for our show—that it was too educational," Schiller recalls. "That everything had to be animated, that we shouldn't use big words like 'frustrated' for preschoolers. Thankfully, we didn't listen to any of that."
The bottom line: The Mother Company has seen double- and triple-digit revenue growth from its kids' videos, books, and iPhone app.
Before it's here, it's on the Bloomberg Terminal.
LEARN MORE