Meet Xi's Team of Wise Men Trying to Avert China's Hard Landing
Here are the half-dozen most important figures struggling with China's huge economy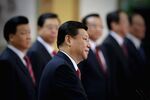 Past Chinese presidents have left the finer points of the economy to their premiers. Not Xi Jinping.
Since taking over the ruling Communist Party in November 2012, Xi has given himself direct control over both short-term financial policies and broader economic planning. He exercises this power through two secretive "leading groups," one a reform panel of his own creation and the other a financial committee recently led by premiers.
Those roles—not to mention his leadership of the party's supreme Politburo Standing Committee—provide Xi, 62, a mechanism to review all big policy moves and likely many small ones. Publicly, Xi presents a more hands-off image, offering broad edicts on the need to reform and moderate growth.
That disconnect has contributed to market uncertainty over how much of China's economic agenda is Xi's and how much belongs to his subordinates:
Li Keqiang, 60, Premier

With a Ph.D. in economics and experience as former Premier Wen Jiabao's top lieutenant, Li once appeared destined to become the principal architect of China's economy. Xi changed that dynamic by packing economic policy into his own portfolio.
The shift has led to ambiguity over Li's role and how much authority he wields behind the scenes. "Likonomics"—as some dubbed his early pledge for deleveraging and structural reform without stimulus—succumbed to a desire to soften China's economic slowdown.
If there's any gap between Xi's vision and Li's, outsiders haven't been allowed to see it. As the head of China's cabinet, the State Council, he remains the main public advocate for policy changes sought by the government.
Wang Qishan, 67, Party Discipline Chief

While Wang has his hands full steering Xi's signature graft crackdown, he remains one of China's preeminent financial gurus. His time at China Construction Bank, during which he worked with Morgan Stanley to found the country's first investment bank, China International Capital Corp., fostered ties with many Western financial chiefs.
He's also one Xi's closest allies, with a relationship dating back to Mao Zedong's Cultural Revolution, when the pair met as youths sent to the countryside to learn the ways of rural life. That bond gives Wang influence exceeding even his sixth-place ranking on the Communist Party's official hierarchy and suggests he remains a guiding force on economic matters.
Zhou Xiaochuan, 67, Central Bank Governor

Like U.S. President Barack Obama reappointing Ben Bernanke, Xi chose stability over a shake-up and allowed Zhou to stay on past retirement age as governor of the People's Bank of China.
Zhou has overseen a more than fivefold expansion in the Chinese economy since assuming leadership of the central bank in 2002 and is by far the most tenured member of China's inner economic circle. He has used his post to advocate for looser controls on the yuan, liberalizing interest rates and establishing an international reserve currency.
Liu He, 63, Finance Group Director

Liu has long been one of the Chinese government's strongest advocates for market-based reforms, and his star has risen with Xi's own. The president appointed the soft-spoken, Harvard-educated Liu to be the chief architect of the country's economic overhaul plan.
He not only heads the general office of Xi's financial leading group but earlier this year became deputy party chief of the state economic planning office. The posts give him central roles in short- as well as long-term decisions about China's development. He's among the handful of officials at Xi's side during trips abroad.
Lou Jiwei, 64, Finance Minister

China's finance ministers lack the clout of their overseas counterparts since state organs are subservient to their party equivalents. Lou has nonetheless endeared himself to Xi with his advocacy for the Asia Infrastructure Investment Bank. The creation of the international lender stands as China's biggest achievement in reshaping the global financial rules.
He has also overseen efforts to rein in lending and give local governments an alternative revenue stream to debt raised through opaque financing vehicles. The leadership is said to be exploring ways to keep Lou past retirement age.
Xu Shaoshi, 63, Reform Commission Chairman

Xu, like his patron, Wen Jiabao, is a geologist by training. Now, as head of the National Development and Reform Commission—the successor of the defunct State Planning Commission—he holds a central role managing China's economy.
While the agency remains a leading force for shaping policies from agriculture to energy, it has come under fire for sharing the same bloat of the state sector it's supposed to reform. The NDRC also faces a powerful new rival in the form of Xi's reform-leading group.
Before it's here, it's on the Bloomberg Terminal.
LEARN MORE