Medicare Fraud Is Committed Well Beyond U.S. Borders
A Florida Medicare provider looks overseas for a new way to bilk American taxpayers
By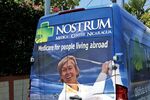 On the streets of Managua, the shuttle bus wrapped in a giant ad for free health care stood out. "Medicare for people living abroad," it proclaimed above the image of a cheerful older woman playing golf. But Medicare, the American public health insurance program for the elderly and disabled, isn't available in Nicaragua or anywhere outside the U.S., except in emergency circumstances. The clinic advertised, Nostrum Medical Center, had a way around that: Patients were required to provide a U.S. address, so their visits could be billed to American taxpayers.
Before the Nicaraguan scheme and a related one in the Dominican Republic were shut down last fall, the U.S. government paid out $25 million from 2011 to 2014 for medical care received by more than 1,000 foreign residents who signed up using post office boxes, mail-forwarding services, or the addresses of friends or relatives in Florida to conceal that they lived overseas. "We were a little bit astonished by the brazenness of the conspirators in this case, particularly with their widespread and open marketing," says Shimon Richmond, the special agent in charge of the Miami regional office of the inspector general of the U.S. Department of Health and Human Services (HHS), which oversaw the investigation.
Ten people, including a Managua physician and his son, have pleaded guilty in the swindle; one remains at large. Four conspirators, including two executives at Florida Healthcare Plus, one of the companies that billed Medicare for the patients seen abroad, will be sentenced in Miami on Aug. 27. (Florida Healthcare wasn't accused of wrongdoing.) The investigation is ongoing, with the HHS inspector general, the FBI, and the U.S. Department of State looking at other countries where Medicare scammers are recruiting patients.
The foreign-enrollment dodge is a new twist on Medicare fraud, which costs American taxpayers billions of dollars a year, according to FBI estimates. For years, the Centers for Medicare and Medicaid Services (CMS), which administers Medicare, had relied on the pay-and-chase method, paying claims first and going after those that looked suspicious after the fact. Recently, the government has increased efforts to boost detection before cheaters can start collecting reimbursements for falsified bills. Ramped-up screening under the Affordable Care Act has resulted in the revocation of Medicare billing privileges for about 34,000 providers, says Medicare spokesman Tony Salters. "CMS is strongly committed to protecting the integrity of the Medicare program," he says. Medicare also fingerprints some applicants and makes unannounced site visits to providers' and suppliers' offices to weed out scammers.
The money made off Medicare fraud is often beyond the government's reach, because it's rapidly spent or hidden in offshore accounts. Even when cheats are caught, the chances are "you will hardly recover anything of the funds you paid out," says Seto Bagdoyan, director of audit services for the U.S. Government Accountability Office (GAO), which has issued reports critical of CMS's failure to snag sham enrollees.
The U.S. has recouped only $1 million in the Nicaragua case. When the defendants were arrested last October, one was leasing six new Mercedes-Benz sedans and living in a 14,000-square-foot Miami mansion, according to investigators. Only one of the 11—the son of the Managua doctor—reported significant assets, about $429,000 in a bank. Four told the court they couldn't afford lawyers. Eight cooperated with the investigation, according to the U.S. Department of Justice. Six have already been sentenced and received prison terms ranging from 15 months to four years.
The scammers primarily enrolled people into a Medicare Advantage Plan run by Coral Gables-based Florida Healthcare Plus, which was liquidated earlier this year. Health-care companies that sell Medicare Advantage Plans for the government are paid a fixed rate each month for every member, giving them an incentive to enroll as many as possible and keep the cost of treatment low. At Florida Healthcare Plus, former Chief Operating Officer Pedro Hernandez decided to enroll former U.S. residents living in Nicaragua and the Dominican Republic, where health care is cheap, according to the indictment. Five other employees at the company were also charged. A lawyer for Hernandez declined to comment.
The company's Medicare contract covered just a few Florida counties, so recruiters told prospective patients they couldn't get the free medical care without an address in one of the counties. Along with the bus ads, Nostrum and other clinics in Managua drummed up interest with full-page newspaper ads and informational sessions at local hotels. (The clinics weren't charged in the fraud.) American expats who saw the promotions, which promised care with no copays, tipped off U.S. Embassy officials. Investigators discovered that recruiters collected commissions of as much as to $300 for every enrollee. One man who'd been living in Managua since 2002 told U.S. agents he was instructed to use his nephew's address in Lake Worth, Fla.
In June, the GAO found that Medicare providers had registered about 24,000 patients at suspicious addresses. They included P.O. boxes at privately run mailing-services stores and a fast-food restaurant. "It's still an ongoing challenge," says Peter Budetti, who oversaw fraud investigations at CMS until 2013 and is now an attorney at Phillips & Cohen in Washington. "Bad guys are always trying to find new ways to game the system."
The bottom line: Florida health-care companies illegally billed the government $25 million for services to people in Nicaragua.
Before it's here, it's on the Bloomberg Terminal.
LEARN MORE