Things Are About to Get Ugly at Kraft
Warren Buffett and 3G Capital may put the food giant on a crash diet
By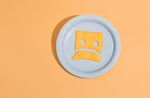 For decades, Kraft and other food behemoths offered convenience, comfort, and the promise of a modern lifestyle. But the compound annual growth rate of the packaged food industry in North America has been less than 1 percent for almost 10 years, with Big Food losing market share to smaller, healthier brands. Venerable Kraft Foods—whose Singles are a "processed cheese product," and whose Cool Whip didn't contain milk or cream until five years ago—has lost revenue for the past three years. "Now these big food brands are old-fashioned," says Bob Goldin, chief executive officer at researcher Technomic. "Consumers don't see them as relevant."
But investors, well, that's a different matter. Warren Buffett—who drinks Coke at breakfast and says he eats like a 6-year-old—teamed up with 3G Capital, the private equity firm founded by some of Brazil's wealthiest men and known for its penny-pinching ways at Anheuser-Busch InBev and Burger King, to buy ketchup maker Heinz in 2013. In July, Heinz closed on its purchase of Kraft, with Buffett's Berkshire Hathaway and 3G owning a 51 percent stake. Kraft Heinz instantly became the third-largest food company in North America, with global sales of $29 billion last year. The good news is it's composed of big, profitable brands. The bad: They have little potential to grow. "What can they do with these brands?" says Bloomberg Intelligence analyst Kenneth Shea. "They'll do the best they can, but mostly they'll cut costs."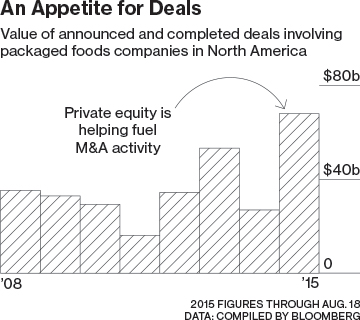 While 3G executives haven't said much about their plans—the firm said its managers were unavailable to comment for this story—they've made one big promise: They'll cut $1.5 billion in annual costs from Kraft Heinz before 2018. The company will lose employees, whole levels of management, and maybe a few brands, too. That should help increase the profit margin and eventually boost the stock, making Buffett, 3G, and other investors richer. And it's scaring the stuffing out of rival food companies concerned that if they don't become more efficient, 3G and Buffett might do it for them.
Kraft was the product of two decades of dealmaking. Philip Morris bought General Foods in 1985 and succeeded in a hostile takeover of Kraft in 1988. The conglomerate, which called itself Kraft, bought Nabisco in 2000. Kraft's size worked to its advantage. "For many, many years the food sector was unassailable. Shelf space in stores was limited; advertising was expensive. Little brands didn't stand a chance," says Alexia Howard, an analyst at Sanford C. Bernstein. "The industry was protected for so long it didn't have to worry so much about costs."
Then all sorts of chains, and Amazon.com, began to sell groceries, some even offering their own brands. Social media and word of mouth started replacing advertising. And more shoppers have been seeking foods that are fresh, free from artificial ingredients, and have a transparent supply chain.
In 2012, Kraft split in two: The snack food and candy brands, which had a bigger presence outside the U.S. and were expected to have higher growth, became Mondelēz International. Everything else—including seven billion-dollar brands such as Oscar Mayer and Velveeta—stayed with Kraft.
The stripped-down company tried to adapt. "It's clear that our world has changed and our consumers have changed, and our company has not changed enough," John Cahill, Kraft's then-CEO, said in February 2015, two months after his appointment. Kraft soon promised to remove artificial ingredients from its iconic Macaroni & Cheese. But changing consumers' perceptions of brands that have been around so long is hard, says Billy Roberts, a food analyst at researcher Mintel Group. "Removing artificial ingredients is one thing," he says. "Making it real food is something very different."
Cahill also talked about making Kraft more efficient and said he'd provide details in a few months. But he never got the chance, because Buffett decided to join forces with 3G, who would look deeper and move faster. Says Technomic's Goldin about the private equity firm: "They would have you reuse toilet paper if they could."
Buffett had seen that cost-cutting prowess firsthand since he and 3G acquired Heinz in 2013. He turned over management of the company to 3G, which set a goal of raising the adjusted profit margin from 18 percent to about 30 percent. Two years later, it's already 27 percent, according to Heinz.
A McKinsey report about 3G produced in February 2015 says the firm acquires companies with marquee brands that need operational improvement. Then it "purges existing culture and management team" and employs zero-base budgeting, which requires every department to justify every expense annually. It squeezes suppliers and grows by buying more companies, not necessarily by building ones it owns. The report says that "while 3G has created tremendous operational value, its model may present long-term risks" to its brands.
At Heinz, about 90 percent of the senior executive team left within weeks of 3G taking over. In all, 3G cut more than 7,000 jobs—20 percent of the workforce—and closed five factories. Sales at Heinz dropped 5.1 percent from 2012 to 2014. According to McKinsey, Heinz has lost market share in 65 percent of its product categories. But adjusted earnings, which matter to financial investors like 3G and Buffett, rose 37.7 percent. 3G has been spending, too: Heinz ran its first Super Bowl ad in decades in 2014, and this spring it introduced an all-natural yellow mustard in grocery stores.
3G's sharp-penciled approach has put the food industry on edge. Nestlé Chairman Peter Brabeck-Letmathe said earlier this year that Buffett and 3G have "pulverized the food industry market, particularly in America, with serial acquisitions." He also said that 3G's "ruthless cost-cutting" to improve profit margins has had a "revolutionary impact" on other food companies. Mondelēz, as well as Kellogg and Campbell Soup, have adopted versions of zero-base budgeting. When Buffett was questioned at his own shareholder meeting in May about 3G's tactics, he said, "Efficiency is required over time in capitalism. … I really tip my hat to what the 3G people have done."
Bernardo Hees, the former chief of Heinz who replaced Cahill as CEO of Kraft Heinz, announced in July that Kraft will move its headquarters from a sprawling 700,000-square-foot complex in a suburb of Chicago to a 170,000-square-foot office downtown. He and Chief Financial Officer Paulo Basilio sent out a memo about cost-cutting. Employees were told to print double-sided. Travel was restricted; conferences were put on hold. Refrigerators crammed with free Kraft snacks were removed the next day. Seven Kraft executives left after the merger in July. In August, Kraft Heinz said it was cutting 2,500 jobs, including more than a third of the workers at Kraft's headquarters.
Kraft Heinz "is focused on growing our business profitably and sustainably," company spokesman Michael Mullen said in an e-mail. He said it will emphasize fewer, bigger, and better innovations. 3G also expects to expand globally. But that could be difficult, Goldin says, since "they gave the brands with international cachet to Mondelēz." That company also has international licenses to many brands that Kraft kept. "3G doesn't care about growing sales," says Edward Jones analyst Brian Yarbrough. "It's about cost-cutting."
—With Noah Buhayar
The bottom line: Kraft Heinz, with $29 billion in global sales, is the third-largest food company in North America. Now 3G will slash its costs.
(Corrects Philip Morris company name in the fourth paragraph.)
Before it's here, it's on the Bloomberg Terminal.
LEARN MORE