Investors Say HTC Ain't Worth Squat
The phone maker announces more cuts as its market value plummets
By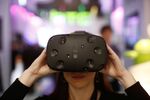 HTC has tried a lot of things to reverse its tumbling smartphone market share: Since last year, the Taiwanese company has replaced its marketing chief, begun selling GoPro-like action cameras and developing virtual-reality headgear, bet more heavily on its high-end but poor-selling line of phones called the One, and booted Chief Executive Officer Peter Chou in favor of Chairwoman Cher Wang. None of that has worked, and shareholders aren't happy.
Investors saw HTC as a global player in 2011, when the company's sales topped $4.6 billion a quarter. It was briefly No. 1 in the U.S. back then but no longer ranks among most researchers' top 10. Over the past four years its market valuation has fallen by 95 percent (60 percent this year) as Apple, Samsung, and cheaper Chinese competitors have grabbed share. On Aug. 10, a further plunge left HTC's value at $1.5 billion, slightly below the amount of cash it has on hand—meaning investors are saying its brand, facilities, and designs are worthless. "Cash is the only asset of value. You can't really assess any value on the rest of the company," says Calvin Huang, an analyst at SinoPac Financial Holdings. "HTC's climb to the top made management too confident, with its ego leading to a string of mistakes in product design, marketing, pricing, and distribution."

Wang said in a statement on Aug. 13 that the phone maker seeks to cut its staff of more than 15,000 by about 15 percent. She said the layoffs are part of HTC's plan to lower expenses by 35 percent and focus more on high-end phones and other hardware, such as the cameras and VR equipment. In an internal e-mail reviewed by Bloomberg and confirmed by the company, Wang said the plan "will deliver HTC to a world leading position in each of our chosen businesses." She added: "Be assured that I have full confidence that HTC will prosper again."
HTC is betting that a commitment to pricier phones such as those in its One line—well-received by reviewers but mostly ignored by customers—will encourage partnerships with well-known companies in other industries. The phone maker is working with video game developer Valve on its VR project and inked a deal with Under Armour last year to make fitness bands that carry the sportswear label's brand. Were HTC to shift toward cheaper models, "I don't think Under Armour would work with us," Chief Financial Officer Chang Chialin said at a press briefing on Aug. 6.
"Their strategy is not very clear," says Richard Ko, an analyst for KGI Securities. "VR is very cool, but it's a niche product, which I don't see contributing to sales in the next 12 months." So far, none of HTC's plans looks like a turnaround, Ko says. If sales grow, or at least stop falling, the planned 35 percent cuts might help HTC break even. Without them, he estimates, HTC will be out of cash within three years. Says Ko: "They have to stop the bleeding."
The bottom line: HTC is counting on high-end smartphones and cost-cutting to help make up for its dwindling market share.
Before it's here, it's on the Bloomberg Terminal.
LEARN MORE