Gold Fields Showcases Foreign Assets to Lure in More 'Believers'
Kevin Crowley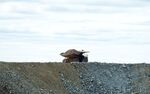 Gold Fields Ltd. Chief Executive Officer Nick Holland says investors are missing the quality of the Johannesburg-based producer's foreign operations by focusing on delays and higher costs at its domestic South Deep project.
"People don't really see the value in particular in our non-South African assets and what they contribute," Holland said in a phone interview on Thursday. "South Deep in many people's minds is something that they're not really sure of."
The company's mines in Peru, Australia and Ghana helped raise headline earnings to $19 million in the second quarter after losses in the previous two quarters, Gold Fields said in a statement on Thursday. They produced 496,000 ounces at an all-in cost of $984 an ounce in the second quarter.
South Deep, in development for at least two years longer than planned, produced 38,700 ounces at $1,986 an ounce.
Stripping out South Deep would put Gold Fields among the top quarter of producers with the lowest costs, Holland said.
All-in sustaining costs fell 10 percent to $1,029 an ounce in the quarter, helped by higher production and weakness in the Australian dollar and South African rand, Gold Fields said.
The stock rose as much as 12 percent to 42.63 rand, the highest since June 3, and was trading up 11 percent at 41.99 rand by 10:53 a.m. in Johannesburg. The shares are still down 19 percent this year, more than the 17 percent drop in the Bloomberg Global Senior Gold Valuation Peers Index.
"If we can continue the momentum into the second half of the year, I think we can certainly get more believers back into the stock," Holland said.
Gold Fields' second-quarter production rose 6.7 percent to 535,000 ounces from the previous three months. It maintained a full-year forecast of about 2.2 million ounces at a cost of $1,055 to $1,075 an ounce. South Deep output will be 8.5 percent lower at 6,500 kilograms, offset by higher output elsewhere.
It will pay an interim dividend of 0.04 rand a share. Gold was up 0.3 percent to $1,137.65 an ounce in London.