Draghi's Post-Holiday Inbox Stuffed With Trouble for Policy
Jeff Black and Esteban Duarte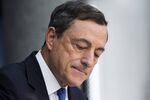 The euro area's monetary-policy makers aren't getting to slumber through the dog days of August.
Even with talks over Greece's third bailout wrapped up, European Central Bank officials are having their repose disturbed by developments that could jolt their plan to revive the region's economy. In coming weeks, they'll have to deal with a world in which China has devalued its currency, oil has slumped to almost $40 a barrel, and investors in emerging markets are walking wounded.
The ECB's Governing Council meets in Frankfurt on Sept. 3, sandwiched between the U.S. Federal Reserve's annual policy pow-wow in Jackson Hole, Wyoming, and a gathering of Group of 20 finance ministers and central bankers in Ankara. As the Fed considers raising its interest rates as soon as next month, ECB President Mario Draghi and his colleagues could find themselves discussing policy action of a very different kind.
"The pressure for the ECB to bring forward the discussion about an extension or expansion of its quantitative-easing program beyond summer 2016 has increased significantly," said Ruben Segura-Cayuela, a London-based economist at Bank of America Merrill Lynch. "Deflationary pressures coming from China, emerging markets and the decline of commodities' prices are making it harder for the ECB to hit its inflation target."
Inflation Swaps
In assessing whether they'll reach that goal -- inflation of just under 2 percent, compared with 0.2 percent in July -- the ECB is watchful of how investors hedge against prices in the future. Since the end of July, the outlook has worsened.
So-called five-year, five-year forward inflation swaps show that market-based consumer-price expectations slid to about 1.6 percent this month, almost as low as when QE started in March.
The drop in the price of oil, down by a third since June, and cheaper imports into Europe as Asian currencies follow the yuan lower, may compound the problem. Adding to the uncertainty, the Greek government plans to hold an election on Sept. 20, just before the first review of its new bailout program.
Stubbornly low inflation in the euro area -- as in the U.S. and the U.K. -- increases the risk that broad-based price decreases, or deflation, could creep in. It also drags on economic growth, which slowed to a sluggish 0.3 percent in the 19-nation bloc last quarter. This month's inflation figures will be published on Aug. 31.
Some market participants are already drawing conclusions on what the consequences for the ECB will be.
QE Expansion
"Rising disinflationary concerns have reduced the term premium on the money-market curve on expectations of a longer accommodative ECB stance," Giuseppe Maraffino, a strategist at Barclays Plc in London wrote in an Aug. 17 note to clients.
In other words, investors think the ECB could extend the duration, or broaden the scope, of its 60 billion-euro ($67 billion) a month asset-purchase program, which is intended to run until September 2016. The central bank already floods the region with cash via a serve-all-comers liquidity policy and has kept its benchmark interest rate at almost zero since 2014.
In a report on Friday, Markit said its gauge of factory and service activity in the euro area rose to near the higest level in four years in August, in a sign that the region's economy picked up momentum. Growth was led by Germany, with France weakening.
'Stay Calm'
So far, the few ECB policy makers who've voiced opinions in recent weeks haven't appeared especially concerned. Benoit Coeure, the Executive Board member with responsibility for market operations, said on Aug. 15 that the "ECB should look beyond short-term volatility, and stay calm."
With regard to oil prices, that dovetails with the view that cheaper energy can spur consumer spending and isn't relevant for inflation over the longer term.
"What they'll really want to do is 'see through' the energy-price effects and look for the impact that's having on other prices," according to Marie Diron, an economist and senior vice-president at Moody's Investors Service in London. "I don't think that the deflation risks are larger than when they started quantitative easing."
Still, officials must also consider the addition of China's economic slowdown and weakening currency into the mix. The surprise devaluation of the yuan this month threw emerging markets into a spin and threatens to weigh on euro-area exports. The MSCI Emerging Markets Index is near its lowest level since 2009.
While China's move "shouldn't be dramatized," the shifts in commodity and currency markets make it less likely that the ECB will reach its inflation target any time soon, Governing Council member Ewald Nowotny said in Vienna on Thursday.
That view may be repeated in policy-maker outings over the next few weeks, prompting the question of whether and when the ECB should react with additional stimulus.
"September's too early for them to do anything ahead of the Fed," said Nick Matthews, senior European economist at Nomura International Plc in London. "But if this scenario plays out it will increase the pressure on the ECB to do more down the line."