Disputed Contract Shows Investor Influence on Soccer Trades
Tariq Panja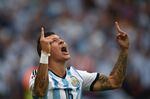 A contract at the center of a legal dispute between one of soccer's most-storied teams and an investment company reveals the influence that some funds exercise in the sport's $4 billion global player trading market.
The Court of Arbitration for Sport will rule as early as next month in a dispute between Sporting Clube de Portugal and Doyen Sports Investments over the 20 million-euro ($22 million) sale of defender Marcos Rojo to Manchester United. Sporting, an 18-time Portuguese champion, withheld proceeds of the trade after saying Malta-based Doyen forfeited a claim to 75 percent of the fee by inducing the transfer against the club's interest. The company denies the claims and wants the full payment.
The verdict may influence litigation over soccer governing body FIFA's decision to stop investors from buying stakes in the future transfer rights of players. The practice -- so-called third-party ownership -- started in South America and is spreading to parts of Europe, with clubs using investors' cash to acquire players they say they couldn't otherwise afford.
If the decision details the contract, "it might shed some light on what has generally been an opaque process," said Daniel Geey, a London-based sports lawyer who's not connected with the case.
Sporting signed Rojo from Spartak Moscow in 2012 for 4 million euros on a five-year contract. It agreed to pay a further 1 million euros to the Russian team if the Argentine defender remained with Sporting at the end of this month.
Doyen contributed 3 million euros of the transfer fee in return for 75 percent of Rojo's future transfer value, or economic rights. Doyen inserted clauses in the contract seen by Bloomberg News to ensure it gets paid "if a transfer offer is rejected, the player becomes a free agent or re-signs with the club."
Doyen Clauses
The contract says the fund was to get the higher of a 4.2 million-euro "interest fee" or its percentage from the sale should the player, who's now 25, transferred. The club and Doyen agreed that 8 million euros would be the minimum reasonable transfer offer for Rojo. The team was obliged to accept an offer for that amount or pay Doyen 75 percent of the transfer fee it rejected.
Such clauses are commonplace in third-party contracts, according to Geey. He said the agreements often "skirt" the boundaries of what was permissible under FIFA's regulations before the ban. Doyen said in a statement Wednesday it wouldn't comment on the case while a decision is still pending.
Another clause states that if Rojo renewed his agreement with Sporting without Doyen's consent, the club would be liable to repay the interest fee within three days of the new deal. FIFA's previous regulation on investor agreements said clubs couldn't enter into a contract that enables "any third party to acquire the ability to influence in employment and transfer related matters its independence, its policies or its teams," raising questions about the pact.
"A lot of people would find it difficult reconciling these clauses with impact of having direct influence" over the team's transfer policy, Geey said.
Sporting didn't respond to a request for comment. Before the June hearing club President Bruno de Carvalho said he hoped the case would set a precedent.
Rojo moved to 20-time record English champion Manchester United after playing a key role in Argentina's march to the 2014 World Cup final. He was part of a defense that conceded just four goals in seven games and scored in a group stage win over Nigeria. Rojo could have negotiated a transfer away from Sporting if a team offered 30 million euros for him.
Sporting refused to pay Doyen the full percentage and offered to repay just the initial investment after de Carvalho alleged Doyen Chief Executive Officer Nelio Lucas breached the contract by sending him threatening text messages. Lucas said that Rojo "will start problems" if he wasn't allowed to leave, according to Sporting. Lucas denied the allegations at the time.
Though it didn't want to comment on the case itself, Doyen said the dispute with Sporting is its first with any team after more than 80 deals globally. Its website lists investments in 26 players, including Manchester City defender Eliaquim Mangala, Chelsea striker Radamel Falcao and Rojo.
"Our contract model complies with all FIFA rules," Doyen said today in an e-mailed statement.
Marcos Motta, a Brazilian lawyer who advocated for third-party investment with soccer governing body FIFA, said CAS has upheld the contract in all five TPO cases it's heard.
"It will be very hard for Doyen to lose this case on a contractual basis," he said by phone.
Before it's here, it's on the Bloomberg Terminal.
LEARN MORE