The Plum China Posting That's Turned Sour
Citroën's Scheunert arrives just as the market is taking a big fall
Alexandra Ho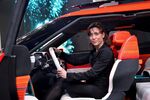 When Sabine Scheunert was offered the job in March to lead French carmaker Citroën's operations in China, she didn't take long to accept. Little wonder: China surpassed the U.S. in 2009 to become the world's biggest market for vehicle sales, bolstering the careers of many executives who once ran units there, including Takahiro Hachigo, now president of Honda Motor, and Joseph Hinrichs, Ford Motor's executive vice president and president for the Americas.
But two months later, after Scheunert relocated from Paris to Shanghai, she was welcomed by a 10,500-vehicle drop in first-half sales—Citroën's first decline for the period in three years. The lightning downturn in the mainland's car market had begun.
Things have gotten worse. China's auto manufacturers group slashed its growth forecast in July and reported that consumers bought the fewest passenger vehicles in 17 months. Car dealerships are offering record discounts to boost sales, but consumers aren't biting because prices continue to slide. "I have to admit that I had no idea what was coming," Scheunert says. "I was aware that somehow the market changed, but that it's going to change so dramatically and so quickly, no one told me."
Where once foreign auto executives' big complaint in China was insufficient supply, carmakers are building so many factories that industry researcher LMC Automotive estimates production will exceed sales by the widest level in at least eight years, resulting in lower profit margins and prolonged pain. Executives used to local investors lining up to become distributors are struggling to find new dealers even as they hand out financial aid to keep their existing ones in the fold.
China will test the skills of Scheunert, who was in charge of building customer loyalty for parent PSA Peugeot Citroën's brands before taking the China post. Prior to joining Peugeot in 2010, she spent 12 years at BMW in various sales and marketing roles in Europe.
For starters, she has to sell five locally produced models, four of which are sedans in a market where sedans have become the worst performing category. That's because mainland consumers favor sport-utility vehicles—especially budget models introduced by domestic automakers.
"They need to have products that are better suited to the Chinese market," says Georges Dieng, a Paris-based analyst at Natixis Securities. "A lot of their products are sedans, with only one SUV. It would be obvious that it would be hard to keep their target for the full year."
To boost sales, Scheunert is working on plans to promote Citroën vehicle features that aren't available in other similarly priced brands, such as a large console display screen and more fabric and styling choices for the interior. The company also will hold test drives and technology days in coming months to raise visibility for the brand.
Scheunert says she analyzes sales data to fine-tune marketing and determine which models to emphasize in different regions to better match consumer tastes. To more effectively understand the market, she travels every week, either to the company's Wuhan production base in central China or to some of Citroën's more than 450 dealers across the country.
Scheunert's target for 2015 is to sell more than last year's 320,000 vehicles, while keeping prices stable so the brand maintains its long-term residual value. Given that other automakers are stepping up discounts amid slumping demand, that goal will be difficult to sustain, says Stuart Pearson, a London-based analyst at Exane BNP Paribas.
While Scheunert won't disclose what type of new model Citroën will begin manufacturing next year, Peugeot says it's on track to complete a fourth Chinese plant in 2016 focused on building SUVs and multipurpose vehicles.
For Scheunert, who speaks German, French, and English, the language barrier remains the biggest hurdle. To adapt more quickly to her new surroundings, she avoided renting in expatriate enclaves so she could have Chinese neighbors, learn more about their lifestyles, and use that knowledge to understand what would sell on the mainland. So far, "no one understands me, and I cannot understand anyone," she says. "And this is probably the most brutal change."
Scheunert says carmakers shouldn't count China out. "Everyone is talking about the negative trend and market change," she says. "For me, this means this is a good challenge." Just how certain is she of a rebound? She's signing up her almost 2-year-old son for Chinese lessons.
The bottom line: Citroën's first-half auto sales in China fell 6.7 percent, the brand's first six-month decline in three years.
Before it's here, it's on the Bloomberg Terminal.
LEARN MORE