Canada's Harper Backs Chief of Staff Amid Spending Scandal
Theophilos Argitis and Josh Wingrove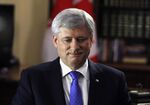 Canadian Prime Minister Stephen Harper said he still has confidence in his chief of staff, Ray Novak, who is implicated in a Senate spending controversy.
"When people are working for me, they have my confidence," Harper told reporters Thursday at a campaign stop near Toronto. "If they didn't have my confidence, they wouldn't be working for me."
Evidence implicating Novak has emerged from the criminal trial of Mike Duffy, a former Conservative senator appointed by Harper who is facing 31 criminal charges in relation to the misuse of expense claims. The most politically charged part of the case involves a C$90,000 ($68,700) personal payment by Nigel Wright, Novak's predecessor, to Duffy aimed at snuffing out the growing scandal.
Testimony over the past week -- in the middle of campaigning for Canada's Oct. 19 election -- suggests Novak was among senior staff who knew about the payment. The evidence includes a statement to police by Benjamin Perrin, a former lawyer in Harper's office, that Novak attended a meeting in which the payment was discussed.
Perrin confirmed that statement in testimony Thursday afternoon. Prior to a conference call with Duffy's lawyer on March 22, 2013, Wright said "Senator Duffy will be going ahead with repaying his expenses because I will be paying them," according to Perrin.
That was the first time he'd heard of the payment, Perrin said in court, adding that he then looked to Novak for his reaction.
Consistent Message
Harper, who has declined to comment on trial evidence and Novak's involvement, has repeatedly said Duffy and Wright were the only people responsible and are being held to account. He held to that position Thursday despite the mounting evidence showing that other aides, including both Novak and Perrin, knew of the payment.
"In this case, I have held the two people accountable who are responsible," Harper said on the campaign trail.
The case against Duffy also hinges on a question of Senate residency, including what qualifies a senator to represent a particular province. Duffy is on trial in part for claiming expenses on a "secondary" residence in Ottawa, where he worked for decades as a journalist before Harper appointed him to the Senate representing Prince Edward Island.
E-mails presented in court show that Harper considered owning property as sufficient for determining a senator's residency in the province he or she represents. Senate rules, meanwhile, require that someone both own C$4,000 in property and also be "resident" in the province.
'Taken Aback'
Perrin -- who left Harper's office in 2013 and is now a university law professor -- said he disagreed with Harper's assessment. "I was immediately taken aback by the prime minister's decision," Perrin said in court.
"To me, both legally and practically, it seemed untenable. I would not be able to consider myself a resident of Nunavut, having never visited there, simply by buying $4,000 in real property," he said, referring to the lightly populated territory in northern Canada.
The case, which resulted in Duffy being suspended from the Senate and expelled from the Conservative caucus, marked the first time serious wrongdoing had implicated Harper's inner circle and raised questions of what the prime minister knew and when he knew it.
The incumbent leader's opponents are attempting to use the trial to their advantage in the election campaign but so far polls are little changed. National averages compiled this week by polling aggregator ThreeHundredEight.com show the left-leaning New Democratic Party leading with 33.5 percent support, with Harper's Conservatives at 29.4 percent and the centrist Liberal Party at 26.7 percent support.