Going Up Against Big Carnation
BloomNation gives florists artistic free rein and lets them set prices
By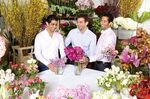 "This is a slow time of year, but still we've been busy anyway," says Ray Le Du, standing in his Manhattan flower shop, Blue Water Flowers, trimming a shipment of tulips just in from the Netherlands. A glass-door cooler by the entrance is filled with velvety red charm peonies—a best-seller even at $12 a stem, says the florist, who almost lost his business during the recession when law firms, hotels, and other big clients stopped calling.
Le Du credits the uptick in orders to BloomNation, an online marketplace where customers can order arrangements from a network of independent florists. Shops such as Blue Water pay BloomNation a 10 percent fee for every sale. In exchange, BloomNation builds a store within its own website for each florist, dispatching a photographer to take pictures of sample arrangements. It also gives businesses tools to collect and analyze their sales data, including contact and order information for past customers.
BloomNation's 10 percent cut is less than half what 1-800-Flowers. com, Teleflora, and FTD charge florists to process orders through their websites and call centers. These so-called wire services dominate the cut flower business, which has annual sales in the $7 billion to $8 billion range, according to the U.S. Bureau of Economic Analysis. Like fast-food franchises, Teleflora and 1-800-Flowers.com offer a standard menu of arrangements and require florists to sign contracts that commit them to buy certain types of flowers and vases and use design templates to build bouquets.
BloomNation's founders, Farbod Shoraka, David Daneshgar, and Gregg Weisstein, set out to create a different kind of e-commerce platform when they started the business in 2011—"an Etsy for flowers," in Shoraka's words. A University of California at Berkeley grad with an undergraduate degree in economics, Shoraka watched his aunt struggle to keep her flower shop open during the downturn. With a growing number of phone apps that allowed people to get just about anything delivered to their home direct from the source, he was surprised there wasn't already an equivalent service for the floral industry. "I could see there was something there to be optimized," he says.
Daneshgar, a 2008 World Series of Poker champion, put up $30,000 of his take plus some seed money he won in a competition for startups at the University of Chicago Booth School of Business, where he was getting his MBA. To test their concept, the trio set up a Facebook page and asked prospective vendors to upload photos of their floral arrangements to a Dropbox folder. The three also traveled around the U.S. visiting florists and flower markets to pitch their idea. Within six months, they'd signed up 500 vendors.
The Santa Monica (Calif.) company now has a staff of 30 full-time employees and has raised $5.5 million in venture capital from Andreessen Horowitz and A Capital. (Bloomberg LP, which owns Bloomberg Businessweek, is an investor in Andreessen Horowitz.) Daneshgar says revenue is growing at a rate of 15 percent to 20 percent per month.
Charlotte D'Costa Taylor, who owns Floral Heights in Brooklyn, N.Y., says she won't renew her five-year contract with Teleflora when it expires because she's happier with BloomNation. She pays 27 percent of each order to the wire service, plus anywhere from $250 to $300 a year in fees for promotions such as posters and seasonal vases. Teleflora doesn't share customer contact information with the florists who fill its orders, so D'Costa Taylor can't market to the people who have actually bought her arrangements. When she gets a wire service order, she can't be creative; she has to stick to the company's design template. She points to a Father's Day bouquet displayed on Teleflora's website: Carnations and alstroemeria stick up from a vase resembling a red convertible. It sells for $55. "This is so not us," she says.
D'Costa Taylor joined BloomNation three years ago after one of her employees saw its fan page on Facebook. She says she now gets more orders through BloomNation than the wire service and is able to set her own prices, which was one of BloomNation's biggest selling points when it was recruiting florists. Wire services usually set the prices for bouquets, with most arrangements on Teleflora going for $40 to $60, an amount D'Costa Taylor says doesn't usually cover the total cost of the product. BloomNation's bouquets start at about $60 and go for as much as $180. To help counter the sticker shock, the startup counsels its members to offer a few smaller, less expensive bouquets that will keep online customers browsing.
Along with marketing advice, the service gives florists access to data that may help them win more orders. "We can tell them that yellow tulips are trending in Southern California," Shoraka says. Since joining BloomNation, both Le Du and D'Costa Taylor say their online sales are up 10 percent every year and that they see more repeat customers. "What they're doing is bringing transparency to a very big, opaque market," says Ronny Conway of A Capital.
After focusing on developing their network of florists in Chicago, Los Angeles, New York, and other major cities, Shoraka, Daneshgar, and Weisstein are looking to break into the wedding and events planning market and trying to expand the company's network of florists into other U.S. cities. Shoraka also has visions that BloomNation could one day become a global enterprise: "The way we've built it, the platform is very scalable."
The bottom line: Startup BloomNation charges florists less than half of what floral delivery giants do to process orders.
Before it's here, it's on the Bloomberg Terminal.
LEARN MORE