BHP, PetroChina Slip as Commodity Rout Deepens on China Concern
David Stringer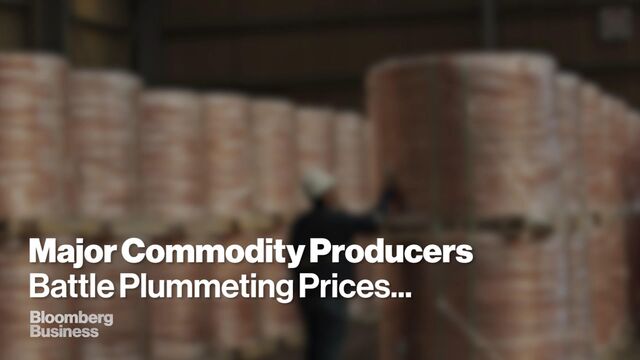 BHP Billiton Ltd. and Glencore Plc drove declines among global mining and energy companies as commodity prices plunged on raised concern of a sharp slowdown in China.
BHP, the world's biggest miner, closed near a seven-year-low in Sydney, while Glencore slumped to a record low and PetroChina Co. dropped to a six-year low in Hong Kong. Gold producers bucked the trend, notching gains on strength in the price of the metal.
Copper and oil prices hit six-year lows amid concern over the weakest growth for 25 years in China, the biggest consumer of metals to energy. Glencore Chief Executive Officer Ivan Glasenberg said Wednesday the world's leading commodity trader was wrong-footed by the sharp slowdown in China.
"Everyone knows about oversupply, the biggest thing that's hitting right now is the concern about China." IG Ltd. market analyst Angus Nicholson said by phone from Melbourne. The copper price decline is another driver, he said.
Copper closed below $5,000 a metric ton on Wednesday for the first time since July 2009 and oil Thursday extended its decline from the lowest close in six years. The Bloomberg World Mining Index of 79 producers declined as much as 0.5 percent to the lowest since 2009.
In contrast, gold producers surged as investors sought a safe haven, according to Gavin Wendt, Sydney-based senior resource analyst at Mine Life Pty. The metal rose to the highest level in a month as prospects dimmed for a U.S. interest rate increase in September, boosting gold's allure.
Encouraging Performance
"The gold price performance has been rather encouraging by comparison to other metals," Wendt said. "The fact that it's put in a steady performance is important, particularly in the context of how other commodities have performed."
Bullion for immediate delivery has fallen 3.8 percent this year as copper has slumped 20 percent and nickel by 31 percent.
Newcrest Mining Ltd., Australia's biggest gold producer, rose as much as 6.9 percent in Sydney, the most since December, while Zhongjin Gold Corp., the listed unit of China's largest gold miner, surged as much as 8.7 percent in Shanghai, even after posting an 82 percent drop in first-half profit late Wednesday.
China's surprise devaluation of its currency earlier this month has supported the price of gold, which is viewed as a good place to park money amid market turmoil and as a hedge against currency depreciation.
PetroChina, Cnooc
The MSCI Asia Pacific Energy Index slid 3.1 percent, falling for the fourth time in five days. Origin Energy Ltd. led declines, having its biggest drop in 15 years in Sydney, after the utility turned to a full-year loss and said the plunge in oil prices could significantly reduce the contribution from its liquefied natural gas project.
PetroChina, the country's biggest oil and gas producer, dropped to the lowest level since April 29, 2009, in Hong Kong. Cnooc Ltd., China's biggest offshore oil and gas explorer also dropped to the lowest since July 13, 2009.
"With oil prices trapped below $50 a barrel, the existing business models of many oil companies are no longer economically viable given the existing high production cost structures," said Gordon Kwan, a Hong Kong-based analyst at Nomura Holdings Inc. On average, most oil companies need prices above $60 to eke out any meaningful profits, he said.
"Investors are fleeing the energy sector, as performance fundamentals deteriorate amidst more downside earnings revisions," Kwan said.