Best U.S. Home Sales Since 2007 Show Momentum in Housing Market
Shobhana Chandra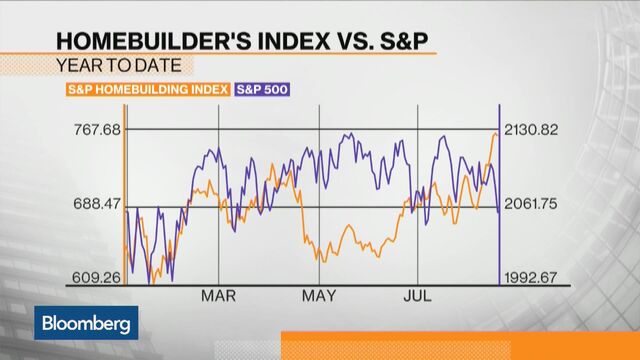 America's housing market has been heating up this summer.
Purchases of previously owned homes unexpectedly rose in July for a third straight month to reach the highest level since February 2007, figures from the National Association of Realtors showed Thursday. The gain was driven by stronger sales of single-family houses even as the share of first-time buyers shrank.
A limited number of available properties is keeping prices elevated, giving homeowners the financial flexibility to trade up as their housing equity improves. The data and a recent report showing the strongest rate of residential construction since 2007 are consistent with the Federal Reserve's view that the industry is making progress.
"Demand is solid," said Brian Jones, senior U.S. economist at Societe Generale in New York. "The driver is that we've got a labor market that's very healthy and mortgage rates are still very low. The Fed has clearly got to be happy with the housing numbers we've seen."
Another report Thursday showed the job market is holding firm. First-time claims for jobless benefits rose by 4,000 to 277,000 last week, according to the Labor Department. Since early March, applications have been lower than 300,000, a level typically associated with an improving employment.
2 Percent
Purchases of previously owned homes increased 2 percent to a 5.59 million annualized rate last month from a revised 5.48 million pace in June, the NAR said. The median forecast in a Bloomberg survey of economists called for July sales to fall to 5.43 million.
Existing home sales, tabulated when a contract closes, are an important barometer of housing demand because they account for more than 90 percent of the residential market. New-home purchases, which make up about 7 percent and are tabulated when contracts are signed, are considered a timelier indicator.
The NAR's data showed that the median price of an existing home climbed 5.6 percent from July 2014 to reach $234,000. While larger gains in property values hurt affordability for first-time buyers, they help bolster housing equity.
"Current homeowners are using their increasing housing equity towards the downpayment on their next purchase," Lawrence Yun, chief economist at the Realtors' group, said in a statement.
First-time buyers accounted for 28 percent of all purchases, the smallest share since January and down from 30 percent a month earlier.
Single-Family Homes
Sales of existing single-family homes increased 2.7 percent to an annual rate of 4.96 million. Purchases of multifamily properties -- including condominiums and townhouses -- fell 3.1 percent. Demand rose in two of four regions, led by a 4.1 percent gain in the South.
The number of previously owned homes on the market fell 0.4 percent to 2.24 million, matching the fewest for that month since 2002. At the current sales pace, it would take 4.8 months to sell those houses compared with 4.9 months at the end of June. Less than a five months' supply is considered a tight market, the Realtors group has said.
"We have this broad-based housing shortage," Yun said at a news conference as the figures were released. "Rents are rising fast, home prices are rising fast. This is a result of under-production."
A pickup in the number of available properties, particularly entry-level homes, would provide an added boost to the housing market by luring more young adults who have been largely absent from the market.
Housing Starts
Residential starts rose in July to a 1.21 million annualized rate, the most since October 2007, according to Commerce Department data on Aug. 18. The report also showed a decrease in applications for future home construction.
The decline in building permits was responsible for a 0.2 percent decrease in the July index of leading economic indicators, according to a report Thursday by the Conference Board. It marked the first decline in the LEI since February.
Persistent employment growth and favorable borrowing costs are the building blocks for improving housing demand. The economy has created almost 1.5 million new jobs this year through July, after 3.1 million in 2014.
The average rate on a 30-year fixed mortgage is below 4 percent, less than a half percentage point above the 3.6 percent rate in February that was the lowest since May 2013, according to Freddie Mac data.
Federal Reserve
Fed policy makers, at their July meeting, noted the improvement in housing, according to the minutes released on Wednesday. Central bankers, who are considering when to boost borrowing costs, last raised their benchmark rate in 2006. The Fed has held it close to zero since 2008 to try to stimulate economic growth.
The strength is housing contrasts with mixed factory data. A report Thursday from the Philadelphia Fed showed manufacturing in the area rose at a faster pace, at odds with figures Wednesday from the Fed bank in New York that pointed to a slowdown in that region.