Bear Market Looms for Hong Kong Stocks as Index Sinks With China
Adam Haigh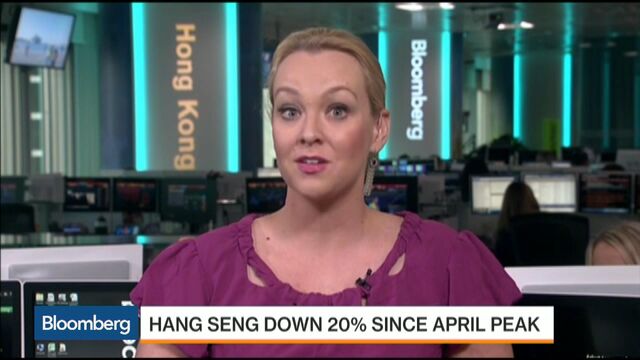 Hong Kong stocks slumped, closing just short of a bear market, as declines in mainland markets and the devaluation of the yuan erode support for the city's shares.
The Hang Seng Index lost 1.8 percent to 22,757.47 at the close in Hong Kong, bringing its drop from a seven-year high on April 28 to 19.99 percent. The Hang Seng China Enterprises Index of mainland equities listed in the city, which entered a bear market last month, fell 2.3 percent.
Shares in the former British colony have been buffeted by a rout in China that destroyed about $4 trillion in market value. The Shanghai Composite Index fell by almost a third from its peak in mid-June, prompting the government to step in with unprecedented measures to support the market.
"People are scared," said Rahul Chadha, co-chief investment officer at Mirae Asset Global Investments in Hong Kong. "It's the fear factor."
Many Hong Kong investors who had sought shelter from China's rout in local shares expected the clock to run out on that trade. HSBC Holdings Plc foresees Hong Kong's currency peg to the dollar weighing on the city's developers as the Federal Reserve starts to increase U.S. interest rates for the first time since 2006. Morgan Stanley says yuan depreciation will hurt retailers.
Death Cross
The average level of the Hang Seng index over the past 50 days is close to dropping below its 200-day mean, a phenomenon known as a death cross. That's happened six times in the past 10 years, with the measure then falling an average of more than 15 percent through the next market low.
Kunlun Energy Co. and Galaxy Entertainment Group Ltd. led declines on the benchmark index on Thursday, each falling more than 6 percent. Lenovo Group Ltd. and Kunlun posted the biggest drops since the high in April.
China Unicom Hong Kong Ltd. rose 1.6 percent on Thursday, the largest gain on the 50-member Hang Seng Index. China Overseas Land & Investment Ltd. gained 0.9 percent after earnings topped estimates.
Shares on the mainland also declined. The Shanghai Composite Index dropped 3.4 percent amid concern a slowing economy and weaker yuan will spur capital outflows. Speculation about the degree of government intervention in stocks has increased since the securities regulator indicated Friday that the state will reduce buying and data showed the richest traders were cashing out.
China's central bank this week injected the most funds in open-market operations since February as intervention to prop up the yuan strained the supply of cash in the financial system.