Ahold Profit Tops Estimates Amid U.S. Revamp, Online Growth
Elco van Groningen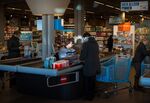 Royal Ahold NV, the Dutch grocery chain in the process of merging with Delhaize Group, reported second-quarter profit that topped analysts' estimates as the company revamped U.S. stores and online sales grew domestically.
The shares advanced as much 4.6 percent in Amsterdam trading. Underlying operating income rose 15 percent to 331 million euros ($369 million), the Zaandam, Netherlands-based company said in a statement Thursday. On average, analysts surveyed by Bloomberg estimated earnings of 317 million euros.
Ahold has reduced prices and invested in a better produce selection in the U.S. to tackle increased competition from retailers including Wal-Mart Stores Inc. After the merger with Belgium's Delhaize, the company will have more than 4 percent of the U.S. grocery market. Globally the new company will have 6,500 stores and annual sales exceeding 54 billion euros.
"Ahold's strategic actions are progressively bearing fruit which bodes well for the future," Alan Vandenberghe, an analyst at KBC, wrote in a note. "With both Delhaize and Ahold posting a solid performance in the U.S., the combined group will have a solid position in the region."
Dutch identical sales grew by 3.4 percent, topping analysts' estimates for a 2 percent advance. The company posted 30 percent sales growth at its bol.com online store.
Ahold shares advanced as much as 81 cents to 18.30 euros as of 9:03 a.m., bringing the grocer's gain for the year to 23 percent and giving it a market value of about 15 billion euros.
Before it's here, it's on the Bloomberg Terminal.
LEARN MORE