U.S. Clamps Down on College Fraud as Students Clamor for Relief
Janet Lorin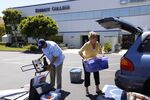 The U.S. Education Department is seeking to hold colleges accountable for fraud and other wrongdoing that results in student loan discharges in light of the collapse of the for-profit Corinthian Colleges Inc.
The department will begin a regulatory process next month to clarify how student borrowers who believe they were defrauded can seek relief and to hold their institutions accountable.
While borrowers, by law, can seek loan forgiveness if they can prove they were deceived by their schools, the provision is ill-defined and has been rarely used. Corinthian's closure last spring, the biggest collapse in U.S. higher education, has demonstrated the need to help students seek debt relief in a more "straightforward, comprehensive process," while limiting damage to taxpayers, the department said Wednesday.
"The process we are beginning today aims to create a clearer, more comprehensive system to assist students who believe they were defrauded by their college," Education Secretary Arne Duncan said in the statement. "And we think it is critical that this solution also does right by American taxpayers. That's what they deserve."
Corinthian, based in Santa Ana, California, closed in April and filed for bankruptcy in May amid allegations it falsified job placement data in its marketing and altered grades and attendance figures. The company has denied wrongdoing.