Oscar Pistorius's Release From Prison Suspended Amid Review
Andre Janse van Vuuren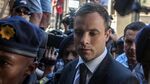 South African Justice Minister Michael Masutha halted Oscar Pistorius's planned release from prison until a parole review board decides whether the athlete may serve the rest of his five-year sentence under house arrest.
Pistorius, the first double amputee to compete at an Olympic Games, was due to be paroled on Friday after spending 10 months in jail for the shooting death of his girlfriend Reeva Steenkamp on Valentine's Day two years ago. A womens' activist group had petitioned the minister to request a review of the decision.
The decision to release Pistorius was made prematurely when the parole board met on June 5 because he had not served a sixth of his sentence as required by law, the ministry said in an e-mailed statement Wednesday.
"One sixth of a five years sentence is 10 months and at the time the decision was made Mr Pistorius had served only over six months of his sentence," the ministry said. The decision to release Pistorius "is suspended until the Parole Review Board has decided on the matter."
Pistorius's lawyers are "considering their options," Anneliese Burgess, a spokeswoman for the athlete and his family, said by phone on Thursday.
Pistorius, who was convicted of manslaughter, testified that he fired four hollow-point bullets through a locked toilet door at what he thought was an intruder in his home.
The family of Steenkamp, who would have turned 32 Wednesday, are "celebrating her life, what she stood for and the joy she brought into so many lives," according to a statement e-mailed by their attorney, Tania Koen. "We are still struggling with coming to terms with losing our precious daughter."