business
Glencore Billionaire Club Loses Half Its Members as Stock Crashes
Javier Blas and Jesse Riseborough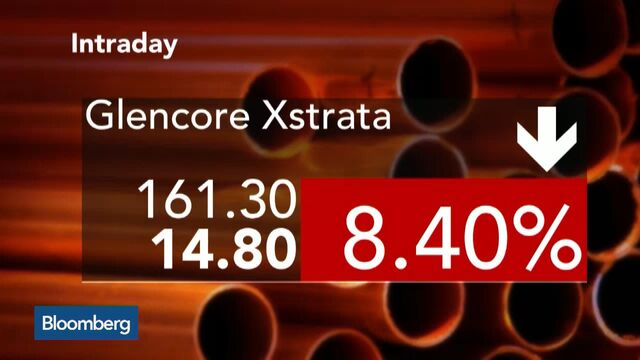 Glencore Plc's initial public offering minted six billionaires in 2011, when Ivan Glasenberg and five other executives together controlled stakes worth $24 billion.
Today, only three would remain in that elite club -- based on the value of their holdings in the company -- and two of those are on the brink of losing their status after the shares of the leading commodity trader lost 70 percent since the flotation.
The May 2011 offering generated more wealth than the IPOs of some of Wall Street's most prominent firms, including Goldman Sachs Group Inc. in 1999. Since then, Glencore's share price has fallen every year, a decline that's accelerated in recent months as concern China's economy is slowing has seen commodity prices dive.
Glencore dropped 9.7 percent in London to close at a record low of 158.95 pence on Wednesday after the company reported a plunge in first-half profit. The shares, which rose 3.2 percent by 2:36 p.m. in London trading on Thursday, are down nearly 45 percent this year.

Glencore Chief Executive Officer Glasenberg remains an undisputed billionaire, but the value of his stake has dropped from $9.4 billion in May 2011 to $2.8 billion now, according to Bloomberg estimates based on public data.
Among his colleagues, the stakes controlled by Tor Peterson and Alex Beard, the heads of coal and oil respectively, are each worth less than $1 billion today.
Reinvesting Dividends
Gary Fegel, the former head of aluminum who left Glencore in 2013, was a billionaire at the time of the IPO based on his stake. Fegel has sold all his Glencore shares since he left and is no longer financially engaged with the trading house, he said in response to a Bloomberg query.
If he had continued to hold his stake in Glencore, it would be worth $385 million today.
Daniel Mate, head of zinc, and Telis Mistakidis, head of copper, are just above the billionaire line, with stakes valued at $1.04 billion and $1.03 billion, respectively, down from about $3.6 billion four years ago. If the shares drop another 5 percent, they will become multi-millionaires.
Glasenberg and some of his executives have bought more shares over the years, reinvesting their dividends.
Glencore declined to comment.
Peter Grauer, the chairman of Bloomberg LP, parent of Bloomberg News, is a senior independent non-executive director at Glencore.
(Updates share price in fourth paragraph.)
Before it's here, it's on the Bloomberg Terminal.
LEARN MORE