Dick Fuld's Sun Valley Estate Could Be Yours for $30 Million
John Gittelsohn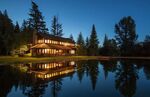 Richard "Dick" Fuld, who led Lehman Brothers Holdings Inc. into the biggest bankruptcy in U.S. history, is selling a Sun Valley, Idaho, estate that may fetch a record price at an auction Wednesday.
Big Wood River Estate, a 71.3-acre (29-hectare) spread near the Sun Valley ski resort and bordered by a trout fishing stream, is being offered at a sale that's scheduled to be conducted on the grounds this evening by New York-based Concierge Auctions.
The property is expected to sell for $30 million to $50 million, which would be the most paid for a U.S. residence sold at an auction, according to Laura Brady, president of Concierge. Bidders are required to deposit $500,000 to participate in the sale, and there is no minimum bid or reserve price, she said. The estate includes a main home and adjacent buildings with a total of 11 bedrooms and 10 1/2 baths.
Fuld headed Lehman from 1994 to 2008, when the financial firm's bankruptcy triggered a Wall Street meltdown. He's selling the estate because he rarely visited Sun Valley in recent years, Brady said.
"The property is costly to maintain and he'd like to have someone else who's going to enjoy it," she said.
Fuld didn't reply to a request for comment left at his firm, Matrix Advisors in New York. He won't be attending the auction, Brady said.
He began assembling the property in the 1990s and commissioned architect Alan Wanzenberg to design the Adirondack-style rock-and-timber main home, service quarters and two guest houses, which were completed in 2002, according to the auction advertisement.
The estate, previously offered for $59.5 million in an off-market listing, includes spring-fed ponds and 2,100 feet (640 meters) of frontage on the Big Wood River.
Harriman, Hemingway

Sun Valley has been a destination for celebrities and ski champions since its founding in 1936 by politician and financier Averell Harriman, whose father ran the Union Pacific Railroad. Author Ernest Hemingway owned a house on the north bank of the Big Wood River in neighboring Ketchum, where he wrote "A Moveable Feast," fished and hunted, and, at age 61, committed suicide.
Sun Valley is also the site of the annual Allen & Co. Conference in July attended by billionaires and executives such as Warren Buffett, Elon Musk and Mark Zuckerberg. The Fuld estate's auction was announced that month to attract attention of the conclave visitors, Brady said.
The previous disclosed U.S. record for an auctioned home was $19.25 million for an estate in Jackson Hole, Wyoming, she said.
Vacation housing prices in Sun Valley, which mostly attracts second-home buyers from the West Coast, have recovered more slowly than in ski resorts like Aspen, Colorado, which has a better airport, according to Tom Heinrich, a broker with Sun Valley Sotheby's International Realty. Only two homes have sold for more than $10 million in Sun Valley's history, he said.
In winter, Fuld's estate can be reached from Bald Mountain, Sun Valley's main peak, by expert skiers willing to brave out-of-bounds slopes and possible avalanches, said Heinrich, a frequent visitor to the Big Wood River Estate.
"I've had more meals there than Dick Fuld," he said in a telephone interview. "I know the property well."