De Blasio Says New York's Success Breeds Quality-of-Life Gripes
Henry Goldman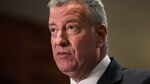 New York Mayor Bill de Blasio made a rare appearance on a radio call-in program Wednesday to defend his administration after more than a month of press coverage that he's characterized as negative and unfair.
De Blasio said "there's a logic" to why voters might perceive the city to be challenged by homelessness and quality-of-life issues even with record lows in crime and traffic fatalities and highs in job creation and tax revenue.
"The blessing is that this is what you'd want for your city," he said. "With that comes incredible pressure on housing costs and that underlines some of the other challenges, and obviously homelessness is related."
De Blasio's radio appearance followed a month of reports portraying the 54-year-old mayor as ignoring the city's problems, including stories last week about his 90-minute-plus workout at a Brooklyn gym during a police standoff with a career criminal who burned his Staten Island house and shot a firefighter who came to investigate.
That report followed others that described the mayor as neglecting an increase in street homelessness, complete with photographs of public urination in the New York Post, where columnist Michael Goodwin invoked a Yiddish vulgarity to call de Blasio "Mayor Putz."
Only 44 percent of voters approved of the mayor's performance in a Quinnipiac University survey released Aug. 5, his lowest rating since taking office in January 2014.
Elected in 2013 by the largest plurality ever for a non-incumbent, de Blasio told radio host Brian Lehrer on Wednesday that economic inequality, the central issue of that campaign, remains "what I think about every day."
Universal pre-kindergarten and after-school enrichment offerings, identification cards for undocumented residents and creating 20,500 units of affordable housing toward a 10-year goal of 200,000 are examples of a "consistent, strategic" vision, he said.