business
China's Global Warming Pollution Estimates Cut in Harvard Study
Alex Morales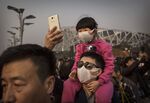 China's fossil-fuel emissions are lower than than previously estimated, according to research led by academics at Harvard University.
Chinese emissions in 2013 were probably about 14 percent lower than researchers had thought, according to the team led by Zhu Liu at Harvard's Kennedy School of Government said Wednesday in a paper in the journal Nature.
More than 190 nations intend to broker a new agreement in Paris in December to limit future emissions and avert the worst effects of global warming. Wednesday's study about China, the biggest emitter, suggests envoys will have to pay closer attention to how emissions are calculated when it comes to dividing up the effort of which nations make the biggest cuts.
"Results suggest that Chinese CO2 emissions have been substantially overestimated in recent years," the researchers wrote. "Evaluating progress towards national commitments to reduce CO2 emissions depends upon improving the accuracy of annual emissions estimates and reducing related uncertainties."
China overtook the U.S. in 2006 to become the biggest greenhouse-gas polluter and now accounts for more than a quarter of the global total, almost double U.S. levels. For the period 2000 through 2013, the researchers calculated that China has emitted 2.9 gigatons less carbon than previously estimated. That's more than the country's annual emissions.
The researchers analyzed the coal used in China, which accounts for about 80 percent of Chinese emissions. They found it contains 40 percent less carbon than the so-called "emissions factor" typically used to calculate greenhouse gases produced.
They found the emissions factor for oil used in China was marginally lower than previously thought, and for gas it was 13 percent higher. They also found that energy consumption was 10 percent higher than national statistics indicate.
The team also analyzed Chinese cement production, which accounts for 7 percent to 9 percent of the country's annual greenhouse-gas output, and found the industry's emissions were 35 percent to 45 percent lower than previous estimates.
Before it's here, it's on the Bloomberg Terminal.
LEARN MORE