politics
The Drought Is Sinking California
Jennifer Oldham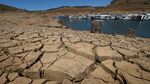 Land in California's central valley agricultural region sank more than a foot in just eight months in some places as residents and farmers pump more and more groundwater amid a record drought.
The ground near Corcoran, 173 miles (278 kilometers) north of Los Angeles, dropped about 1.6 inches every 30 days. One area in the Sacramento Valley was descending about half-an-inch per month, faster than previous measurements, according to a report released Wednesday by the Department of Water Resources. NASA completed the study by comparing satellite images of Earth's surface over time.
"Groundwater levels are reaching record lows -- up to 100 feet lower than previous records," Mark Cowin, the department's director, said in a statement. "As extensive groundwater pumping continues, the land is sinking more rapidly and this puts nearby infrastructure at greater risk of costly damage."
Areas along the California Aqueduct -- a system of canals and tunnels that ships water from the north to the south -- sank as much as 12.5 inches, with eight inches of that occurring in just four months of 2014, researchers found.
The warnings come as a four-year, record-setting drought squeezed California's $43 billion agriculture industry and led to mandatory, statewide water restrictions for the first time.
The sinking could damage aqueducts, bridges, roads and dams, NASA said. As it occurs over time, sinking land has already destroyed thousands of public and private groundwater well casings in central California, the agency found.
A state law enacted in September requires local governments to form agencies to regulate pumping to better manage groundwater supplies.
Before it's here, it's on the Bloomberg Terminal.
LEARN MORE