politics
As California Road Talks Begin, Brown Keeps Lawmakers Guessing
Alison Vekshin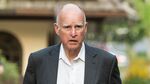 California Governor Jerry Brown said he won't tip his hand yet as to whether he'll support raising gas taxes to come up with $5.7 billion needed to repair the state's crumbling roads and bridges.
"My approach to bringing people together is not to prematurely close the door," Brown, a 77-year-old Democrat, said Wednesday at a news conference at the Port of Oakland. "We'll get it done, but I'm not going to put all my cards on the table this morning."
Lawmakers who returned from a month-long recess this week are split along party lines over how to come up with the money, with Democrats who control both chambers of the legislature proposing higher taxes and fees. Republicans are opposed and instead say the state should stop diverting existing transportation funds to other uses.
In June, Brown called lawmakers into a special session to fill the annual gap in the state's road-repair coffers. The need arises as gasoline taxes, the state's main road-funding source, are shrinking as fuel efficiency improves and electric cars become more popular. The levy is enough to fund $2.3 billion of work, short of the $8 billion needed, according to California's transportation department.
Tax increases require two-thirds approval of the legislature, so some Republican votes would be needed. Brown has previously said any proposals to raise taxes should go before voters.
"In special session, I am hopeful that we can set aside rigid ideology and consider serious proposals that provide a new, fair funding stream," Assembly Speaker Toni Atkins, a Democrat, said at the Oakland event with Brown.
As many as 564 state bridges are distressed and 41 percent of the state's 50,000 lane-miles (80,450 kilometers) of highways also are distressed or require preventative maintenance, according to the transportation department.
Potholes and ruts cost Los Angeles- and San Francisco-area drivers $1,000 a year in additional car upkeep, about twice the national average, according to a study released in July by TRIP, a Washington-based nonprofit that researches surface transportation.
Before it's here, it's on the Bloomberg Terminal.
LEARN MORE