business
Wal-Mart Lowers Forecast as Pay Raises, Currency Take Toll
Shannon Pettypiece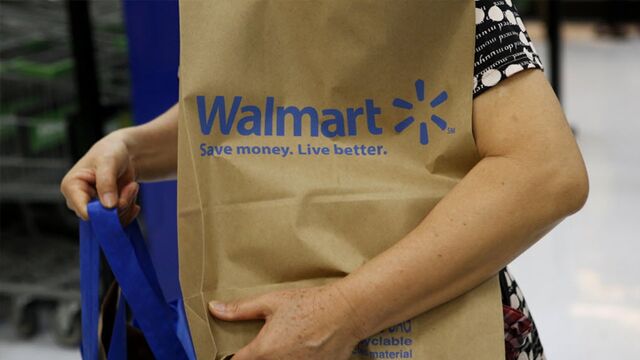 Wal-Mart Stores Inc., the world's biggest retailer, cut its annual earnings forecast for the year, hurt by currency fluctuations and a high-profile pay bump for U.S. employees.
The company now expects profit of $4.40 to $4.70 a share this fiscal year, which runs through January, according to a statement on Tuesday. Wal-Mart had previously forecast earnings of as much as $5.05 a share. The outlook sent the shares on their biggest one-day decline in almost three months.
Chief Executive Officer Doug McMillon is coping with a strong dollar overseas, which has cut into revenue. At home, Wal-Mart is raising wages, aiming to retain more employees and improve customer service. While those efforts have increased costs, they are helping fuel growth, McMillon said. Wal-Mart's comparable-store sales, excluding currency and fuel spending, rose 1.5 percent last quarter. That beat the 1 percent projected by analysts, according to Consensus Metrix.
"When you make all these investments, you need to see sales come in stronger and grow faster," said Brian Yarbrough, an analyst at Edward Jones. "That is going to be the big question."
Wal-Mart shares fell 3.4 percent to $69.48 in New York, the biggest decline since May 19. The stock had already slid 16 percent this year through Monday's close.
Second Quarter
Wal-Mart also posted second-quarter earnings that missed analysts' estimates. Profit amounted to $1.08 a share in the period, excluding some items, the Bentonville, Arkansas-based company said. Analysts had expected profit of $1.12 a share, according to data compiled by Bloomberg.
Lower gas prices likely helped Wal-Mart increase foot traffic because consumers were less concerned about the cost of driving. At the same time, retailers have been struggling to get consumers to spend more of that money they are saving from lower gas prices in brick-and-mortar stores. Wal-Mart also had higher "shrink" last quarter, reflecting more theft or waste of products.
"Many consumers are spending the incremental dollars away from traditional retail, saving more or paying down debt," Patrick McKeever, managing director at MKM Partners, said in a note to clients before the earnings were released.
Concerns about an increase in interest rates by the Federal Reserve and slowing economies abroad also have been weighing on consumer confidence, but an improving job market has helped keep spending afloat. Sales at retailers advanced 0.6 percent in July, and the prior two months were revised higher, according to the Commerce Department.
Pay Increases
Wal-Mart announced plans in February to raise wages to at least $9 an hour this year and $10 by 2016, along with a related effort to improve training and bolster hours. The move will reduce profit by 24 cents a share, Wal-Mart said on Tuesday. That includes an 8-cent hit in the fiscal third quarter, which runs through October. Wal-Mart had previously said the effort would cost 20 cents this year.
"The changes we need to make require investment, and we're pleased with the steps we've taken," McMillon said on a prerecorded conference call for investors. "Even if it's not as fast as we'd like, the fundamentals of serving our customers are consistently improving, and it's reflected in our comps and revenue growth."
(Updates share price starting in second paragraph.)
Before it's here, it's on the Bloomberg Terminal.
LEARN MORE