Tianjin Explosions Spur New Response to Public's Distrust
Bloomberg News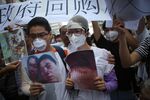 Deadly blasts at a warehouse holding toxic material in Tianjin have raised familiar questions about safety in China, spurring a backlash among local residents and rare criticism from state-run media. Having faced similar outrage in previous disasters, officials are adapting how they respond.
The Tianjin explosions killed at least 114 people and brought attention to lax regulation at a time authorities under President Xi Jinping are firing corrupt Communist Party cadres and demanding accountability from local officials.
As with past catastrophes, people took to social media to ask: How was this allowed to happen? Is the government -- which sought to shape and curtail discussion of the disaster on social media -- more bent on controlling information than determining the cause and helping victims?
"I trusted the party and the government that they will not abandon us," said Jack Zhang, a businessman with an 7-year-old daughter who bought an apartment near Tianjin's port two years ago. "But after five days, we didn't hear anything concrete from the authorities and they didn't provide any assistance to us. I'm very disappointed."
As the central government seeks to avoid social unrest spreading at a time economic growth slows, and faced with anger from residents driven from their homes, it appears to now be responding to that criticism.
Public Declarations
The party has made repeated public declarations of its determination to get to the bottom of the explosions, with the State Council ordering a review of how toxic chemicals are stored. Premier Li Keqiang visited the site and even answered unscripted questions from Hong Kong television as he left a hospital where victims were treated.
China's anti-graft agency announced on Tuesday that Yang Dongliang, the head of State Administration of Work Safety and a former vice mayor of Tianjin, was under investigation for "serious discipline violations." And on Wednesday, the official Xinhua News Agency reported that a Dong Shexuan, the vice chairman of the logistics company where the blast occurred, is the son of the former Tianjin port police chief.
"I hold the unavoidable responsibility to the blasts as the head of the city," Huang Xingguo, Tianjin's mayor and acting Communist Party chief, said at a briefing Wednesday. "The incident had terrible costs for Tianjin."
Past Silence
Statements like that contrast with past silence in the face of disasters such as the Severe Acute Respiratory Syndrome epidemic in 2003, when the government initially withheld information about the disease. Consumer suspicion about shoddy regulation was fanned in 2008 when six infants died from consuming milk powder laced with the chemical melamine.
"Like previous crises of public trust, from the SARS epidemic to the milk powder scandal, the blast has exposed many problems with the government," said Mao Shoulong, a public administration professor at Renmin University of China in Beijing. "But the government has also proved a quick learner in crisis management -- in the Tianjin blast case, it's already showing signs of adaption."

After the blast injured hundreds and forced locals to evacuate, public anger ran high over how some 700 tons of poisonous sodium cyanide was kept at the site, given regulations require such sites to be at least a kilometer from residential areas. Some buildings were only 700 meters away.
A petition was organized on the streets of Tianjin, asking the government to "buy back" damaged homes, according to pictures published on the website of the magazine Caijing. The first press conference was held about 17 hours after the blast. At a briefing more than three days later, the local party propaganda chief said he had no idea who was leading the rescue effort.
Unusual Foray
State media made an unusual foray into the disaster, warning of the repercussions of social unrest bubbling outward unless the government acted. "A single slow reaction can lead to rumors running riot," said the Global Times. "And in turn, public confidence will be eroded."
Officials at the national level have responded in a way that appears aimed at blunting accusations of a slow or insufficient response.
Police took 10 executives of the warehouse where the blast occurred into custody; shelter and food were provided to victims, and rental allowances of 6,000 yuan ($938) per household offered to those whose homes were damaged.
On Tuesday the State Council announced the formation of a team from the Public Security Ministry to investigate the blasts.
New Importance
Such questions will take on new importance for China's middle class as the focus shifts from accumulating wealth to quality of life, especially as environmental issues like pollution come to the fore after years of breakneck economic growth.
"What we may see is a collective middle class shrug, meaning 'what can you expect with a government like this,' but what's the alternative?'" said June Teufel Dreyer, a professor of political science at the University of Miami. The government has survived worse and "will survive this one too," she said.
"The corruption that caused such disasters will persist," Dreyer said. "Will there be a last straw one of these days? Perhaps."