The Myths of the Campaign Advertising Air War
Not all stories about political ad buys are created equal.
By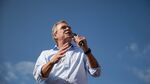 The first significant shots of the 2016 presidential television ad air war—likely to cost $2 billion or more by November 2016—have been fired. The largest expenditures to date have been the multi-million dollar buys each from New Day for America, the super-PAC supporting Ohio Governor John Kasich, and former Secretary of State Hillary Clinton's campaign. Over the weekend, news broke of an impending $10 million buy from Right to Rise, the super-PAC backing former Florida Governor Jeb Bush's candidacy, to be distributed among several early states.