Sprint's Claure Revives CEO Twitter Spat With More Profanity
Sprint CEO Marcelo Claure came out swinging against T-Mobile US's John Legere with a tweet overnight taunting his rival.
by
The telecom CEO Twitter spat goes to a second round.
Sprint Corp.'s Marcelo Claure came out swinging against T-Mobile US Inc.'s John Legere with a tweet overnight that taunted his rival for his last place in a network performance study that measures speed, reliability and call quality at the four largest U.S. wireless carriers.
Reaching for street cred and in a play on the title of the current hit movie "Straight Outta Compton," Claure continued:

Legere was quick to answer:
Until last month, Claure remained amused and courteous in his exchanges with Legere, a self-styled rebel unencumbered by the usual decorum of high executive office who has for years tried to bait other CEOs into his colorful online discussions. Not anymore. Claure, who's in a middle of a turnaround, has changed his tone at a time Sprint dropped to fourth place behind T-Mobile in terms of total users. 
Their bigger competitors, Verizon Communications Inc. and AT&T Inc., kept their No. 1 and No. 2 rankings in the performance study released at midnight by RootMetrics. Sprint improved its third-place performance and T-Mobile, at fourth place, was the only one that slipped in its score for the first half of 2015.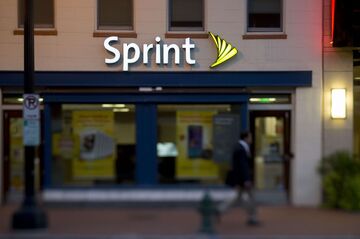 RootMetrics Vice President Julie Dey, says she's heard T-Mobile's criticism of her company's bi-annual reports, which have put T-Mobile at the back of the pack for a second time.
"Performance may not be the number one reason people chose a service, but I'd put it up there in the top three," Dey said.
The two smaller carriers, outgunned by the financial resources of Verizon and AT&T, have turned to social media to try and strike an attitude that connects with customers. Legere has attracted 1.6 million followers with his snarky posts. Claure, a latecomer to the zings and barbs of Twitter combat, has 83,000 followers.
Before it's here, it's on the Bloomberg Terminal.
LEARN MORE