business
South Africa's Rand Set for Rebound as Gauge Signals Oversold
Xola Potelwa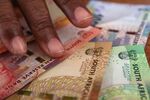 South Africa's rand may be due for a rebound after a 6 percent slump this quarter pushed its nine-day relative-strength index above the level that indicates it's oversold, according to Barclays Plc.
The rand's RSI climbed to 72 on Tuesday, the highest since July 18 and above the 70 level that some traders see as a sign the currency has depreciated too much, too fast. The currency weakened 0.2 percent to 12.9403 per dollar by 3:12 p.m. in Johannesburg.
While the rand may extend its decline to 13 per dollar in the "near term", the RSI signals it is oversold, said Judy Padayachee, a Johannesburg-based technical strategist at Barclays Africa Group, the U.K.-based lender's African unit. A recovery below 12.85 per dollar "would signal that the rand bulls could be making a stand," she said in a note.
South Africa's currency slumped to its weakest level since December 2001 this week, weighed down by a decline in commodity prices, slowing growth in China and the prospect of a Federal Reserve interest-rate increase as soon as next month. An electricity shortage and persistent fiscal and current-account deficits are fueling the decline.
A "very healthy" weakening trend suggests the rand is unlikely to trade far beyond 13 per dollar, according to Mohammed Nalla, the Johannesburg-based head of strategic research at Nedbank Group Ltd. A "healthy trend" refers to a trend line angle of about 45 degrees, he said.
The rand would reach "technically oversold" levels at 13.05 per dollar and may continue weakening to 13.15 before ganing support, Nalla said.
The currency has fallen through 13 per dollar only once, on Dec. 21, 2001, when it failed to close above that level and gained 8 percent in the following month.
Before it's here, it's on the Bloomberg Terminal.
LEARN MORE